Contact Us
Institutional Communications
Bureau of Mines Building, Room 137
Laramie
Laramie, WY 82071
Phone: (307) 766-2929
Email: cbaldwin@uwyo.edu
Pokes Made the Difference for UW Students, Raising Over $500,000
May 7, 2020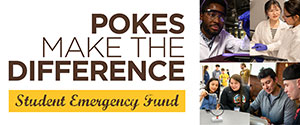 University of Wyoming students will receive more than half a million dollars as the result of Pokes Make the Difference, a private support campaign established to help UW students facing financial hardship due to the COVID-19 crisis.
The entire $555,448 raised will go into a student emergency fund, providing assistance for UW students with emergency medical expenses, food insecurity, and loss of housing, utilities, rent, essential services and more.
"These funds from the student emergency fund will be going toward keeping my household stable and fed for the time being," says Adrian Seiloff, a UW sophomore and recipient of funding. "I cannot express the fear and anxiety we have lived in due to the COVID-19 crisis, and this funding from the University of Wyoming has lifted a weight off my shoulders, which I wasn't certain I could carry on my own."
UW Acting President Neil Theobald announced the creation of the campaign April 1, urging members of the UW community to step up to support students. In just 15 days, the campaign raised $250,000, which secured an added $250,000 in matching funds provided by the leadership of the UW Foundation Board of Directors. To incentivize additional gifts, the UW President's Office provided matching funds that doubled all gifts over the initial $250,000.
"The Pokes Make the Difference campaign is the epitome of the culture we have established here at the University of Wyoming," Theobald says. "It has been deeply gratifying to see so many of you respond to the call to help our students in need. The generosity of our supporters, our UW alums and the leadership of the UW Foundation has provided relief of economic hardship for many UW students."
Donors included alumni, the UW extended community and even other students. Overall, 464 gifts were received when the campaign ended April 30.
"During this unprecedented time, it has been humbling to see the UW family come together so quickly to help our students," says UW Foundation President Ben Blalock. "So many heartbreaking UW student stories. The depth of care and generosity from UW alumni and friends toward our student family is a defining statement regarding Wyoming's university."
The UW Dean of Students Office received 914 applications from students seeking financial support through the fund. To qualify for funding, students must be currently enrolled as degree-seeking, full-time or part-time undergraduate or graduate students at UW and must be experiencing unexpected financial hardship resulting from the COVID-19 outbreak. Students will receive an award up to $1,000, with funds disbursed based on awarding criteria.
"The sentiment that our students have is that the university cares," says Vice President for Student Affairs Kim Chestnut. "This university really wants students to succeed, wants them to do well and wants them to stay Cowboys, all the way until graduation. And, so, whatever it takes to make that possible, is what we're going to do. This campaign is intended to meet those immediate needs, right here, right now."
Creation of the student emergency fund was a collaborative effort on behalf of several university units, including the Associated Students of UW (ASUW).
"At least 37 percent of UW students are facing food insecurity," ASUW President Jason Wilkins says. "This may only worsen as we acclimatize to these challenging circumstances. Many students will experience economic hardship due to recent unemployment, making utility and housing payments challenging. This has put their success as students in limbo."
In addition, ASUW Sustainability Coalition Co-Chairs Addison Marr and Caitlin McLennan worked with the UW administration to propose the fund, to research best practices at other institutions and to develop inspirational messaging alongside the UW Foundation to help promote the campaign.
"The UW students are an integral part of the community," Marr says. "It's powerful when the Laramie community and UW come together and make a change."
"Through launching this fund, we're really making sure that we're taking care of our own," McLennan says. "We're making sure we're taking care of our people who aren't able to support themselves who have been thrust into this situation that none of us expected."
Contact Us
Institutional Communications
Bureau of Mines Building, Room 137
Laramie
Laramie, WY 82071
Phone: (307) 766-2929
Email: cbaldwin@uwyo.edu