Contact Us
Institutional Communications
Bureau of Mines Building, Room 137
Laramie
Laramie, WY 82071
Phone: (307) 766-2929
Email: cbaldwin@uwyo.edu
O'Neil Named UW's Dean of Students
June 25, 2020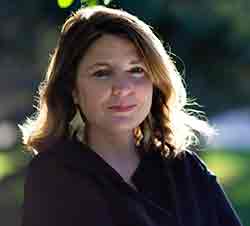 Ryan O'Neil
Ryan O'Neil, who has led the University of Wyoming Dean of Students Office on an interim basis since January, has been named UW's dean of students.
The appointment was made this week by Vice President for Student Affairs Kim Chestnut.
"Given the great work Ryan has completed and plans for moving forward, the Division of Student Affairs is thrilled that she has accepted the offer to officially serve as the dean of students," Chestnut says. "Ryan has done an exceptional job, and we are pleased to have her experience and skills to serve in this essential role."
Before becoming interim dean of students, O'Neil served as assistant dean of students with a focus in student conduct. She has an extensive background in K-12 education and administration.
She completed her undergraduate degree in history at Hastings College and a Master of Education in policy organization and leadership studies at Stanford University.
"Student Affairs is preparing for a dynamic fall 2020 semester, and we are thankful for the committed and hard-working staff who make our incredible student engagement and support possible," Chestnut says. "A critical factor in comprehensively attending to student needs is having a strong dean of students to lead and coordinate many of the direct connection opportunities."
Contact Us
Institutional Communications
Bureau of Mines Building, Room 137
Laramie
Laramie, WY 82071
Phone: (307) 766-2929
Email: cbaldwin@uwyo.edu