Contact Us
Institutional Communications
Bureau of Mines Building, Room 137
Laramie
Laramie, WY 82071
Phone: (307) 766-2929
Email: cbaldwin@uwyo.edu
Two UW English Graduate Students Receive Prestigious Fellowships
June 5, 2020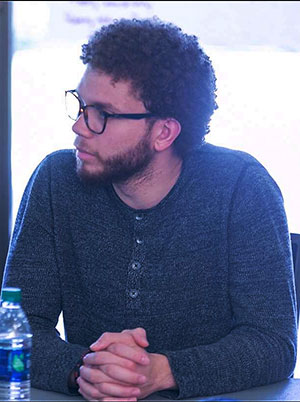 Isaih Dale
Two recent University of Wyoming graduate students are the recipients of prestigious fellowships to continue with their educational and professional goals.
Spencer Cooke, from Hugo, Okla., and Isaih Dale, of Brawley, Calif., received fellowships to the University of Oklahoma and the University of Notre Dame, respectively. Both recently received their master's degrees from the UW Department of English.
Cooke was accepted to the English doctoral program at the University of Oklahoma (OU) and received the Alumni and OU Foundation Fellowship, which pays a $28,000 stipend.
Dale, who was accepted to the English doctoral program at Notre Dame, received a Presidential Fellowship, which pays an annual stipend of $30,000, with extra funds for travel and research. Out of 5,000 applicants for the Presidential Fellowship, only 25 were selected.
"The English master's program is lucky to have so many talented students, and Isaih and Spencer are two of our many great graduates moving on to new, exciting challenges next year," says Michael Edson, the graduate coordinator for the UW English master's on- and off-campus degree programs. "Isaih and Spencer are leaders on campus and role models for their first-year English students."
Edson says the pair's innovative research also "turns heads in their respective fields, as their acceptances at these top doctoral programs show."
"UW English master's students in recent years have had Ph.D. placements at such prestigious schools as Duke, Indiana and the University of California-Riverside," he adds. "But, Isaih and Spencer's prestigious Ph.D. fellowships are something extra special."
Cooke, who had a specialization in rhetoric/composition at UW, plans to continue that research at OU, which will intersect with the fields of rhetoric and composition, and memory studies.
"Specifically, I look at how communities in social media accelerate the distortion of cultural memory," he says. "The curriculum at Oklahoma is very exciting to me, as teaching students to effectively communicate their ideas is my favorite part of academia. OU's rhetoric and writing studies program has a very good Ph.D. placement rate, and I hope to continue this trend by pursuing a professorship after earning my doctoral degree."
Dale will begin his doctoral studies in English literature this fall at Notre Dame, with a goal of becoming a professor. While at Notre Dame, he will study theories of black masculinity and black solidarity in dialogism with early to mid-20th century African American literature.
"I am extremely thankful for the professors in the Department of English at UW for helping me to both receive the fellowship and acceptance into Notre Dame," Dale says. "I am excited for the next step of graduate school, and will always be thankful for the University of Wyoming and its many resources for helping me to take this next step."
Contact Us
Institutional Communications
Bureau of Mines Building, Room 137
Laramie
Laramie, WY 82071
Phone: (307) 766-2929
Email: cbaldwin@uwyo.edu