Contact Us
Institutional Communications
Bureau of Mines Building, Room 137
Laramie
Laramie, WY 82071
Phone: (307) 766-2929
Email: cbaldwin@uwyo.edu
UW Engineering Faculty Member Among Inaugural CAES Fellows Cohort
June 8, 2020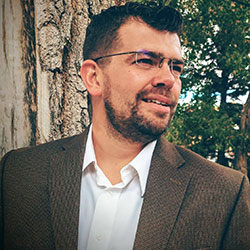 Mike Borowczak
Mike Borowczak, founding director of the Cybersecurity Education and Research center at the University of Wyoming, has been selected to the inaugural Center for Advanced Energy Studies (CAES) Fellows cohort.
The six fellows were chosen from staff and researchers at Idaho National Laboratory (INL), Idaho State University, Boise State University and UW based on their history of involvement with the center. CAES' two-year program will provide them with additional resources for their current projects and encourage more collaboration among the schools and lab.
"It's an honor to have been selected as one of the inaugural INL CAES Fellows," says Borowczak, the Loy and Edith Harris Assistant Professor of Computer Science in UW's College of Engineering and Applied Science. "Our mission and long-term collaborative vision enable strategic growth for the University of Wyoming and the state of Wyoming based on our existing and growing areas of expertise in energy, computing, security, advanced manufacturing, and education and career development."
Launched in spring 2020, the CAES Fellows initiative provides recognition, resources and opportunities to members of the CAES community. The five other fellows are Ron Boring, a visiting faculty member at CAES from INL; Mustafa Mashal, an associate professor at Idaho State University; and Professors Brian Jaques, Lan Li and Claire Xiong, from Boise State's Micron School of Materials Science and Engineering.
Each member of the inaugural CAES Fellows cohort has exhibited impressive leadership by mentoring students; leading research projects and workshops; taking the initiative to create stronger bonds among members of the CAES consortium; and serving as champions for CAES to external communities.
Borowczak has championed several CAES endeavors at UW and has been involved in a number of efforts in the cybersecurity focus area at CAES. He has served as the UW lead for the pilot CAES nuclear security and safeguards joint certificate initiative; is a member of the CAES cybersecurity working group; and recently was granted a joint appointment with INL, an arrangement in which a researcher has formal ties to both INL and a university.
Borowczak is a current participant in the CAES Summer Visiting Faculty Program, in which he and a team from INL Cybercore are working on developing a proposal related to defining and assessing security metrics of machine learning models.
Before joining the UW faculty, he worked in the semiconductor industry and at several startup companies as a hardware security architect and data scientist.
"I am a strong proponent of collaboration making us stronger and more effective," Borowczak says. "Being selected as a CAES Fellow extends our collaborative network, which supports University of Wyoming students, researchers and faculty to further develop the state of Wyoming's economic diversification at a nexus of energy, security, advanced manufacturing and computing through research, education and outreach."
Since 2018, his research has been funded, in part, by $3.3 million from a range of federal, national, state and industrial entities, including the National Science Foundation, National Security Agency, INL, the state of Wyoming and IOHK. Borowczak holds a Ph.D. in computer science and engineering from the University of Cincinnati.
For more information on the inaugural CAES Fellows cohort, visit https://caesenergy.org/caes-fellows/.
Contact Us
Institutional Communications
Bureau of Mines Building, Room 137
Laramie
Laramie, WY 82071
Phone: (307) 766-2929
Email: cbaldwin@uwyo.edu