Contact Us
Institutional Communications
Bureau of Mines Building, Room 137
Laramie
Laramie, WY 82071
Phone: (307) 766-2929
Email: cbaldwin@uwyo.edu
UW's Zhai Receives Two Grant Awards
October 14, 2020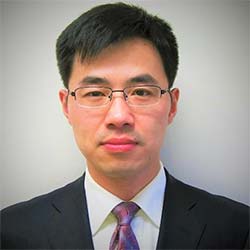 Haibo Zhai
A University of Wyoming faculty chair recently received federal grants to research carbon capture and storage, and water savings at natural gas-fired power plants.
Haibo Zhai, the Roy and Caryl Cline Chair of Engineering, Environment and Natural Resources and an associate professor in the Department of Civil and Architectural Engineering, says the grants are instrumental to his development of a new interdisciplinary program.
"At UW, I am now developing a new interdisciplinary program of systems research in low-carbon energy and environmental sustainability, which addresses technical, economic and policy issues related to energy and the environment," Zhai says. "The two projects will support Ph.D. students in my research program. I do computational research. Thus, there are no physical experiments or equipment involved in the two projects. The dollars are budgeted to support Ph.D. students."
Through the FLExible Carbon Capture and Storage (FLECCS) program of the U.S. Department of Energy, Zhai received a two-year, $92,988 Advanced Research Projects Agency-Energy grant.
The project will perform systems research on a range of FLECCS technologies for integration with renewables toward a net-zero carbon energy future. Zhai also will collaborate closely with a group of researchers at the National Renewable Energy Laboratory. The grant began in September and runs through September 2022.
The other grant, for $34,884, was awarded by the National Energy Technology Laboratory (NETL) through KeyLogic Systems LLC. The grant supports a one-year project that began in August and runs through June 2021.
This research project will estimate the water savings from retrofitting dry cooling systems at existing natural gas-fired power plants. Dry cooling systems will be deployed at plants in the western United States to replace existing wet cooling towers and reveal trade-offs among water savings, capacity shortfall and cost. Zhai will collaborate on this energy-water nexus project with his colleague at Carnegie Mellon University.
Before coming to UW this fall, Zhai was an associate research professor of engineering and public policy at Carnegie Mellon University.
Zhai received his doctoral degree in environmental engineering at North Carolina State University; his master's degree in environmental engineering from Tongji University; and his bachelor's degree in water supply and drainage engineering from Xi'an University of Technology.
Contact Us
Institutional Communications
Bureau of Mines Building, Room 137
Laramie
Laramie, WY 82071
Phone: (307) 766-2929
Email: cbaldwin@uwyo.edu