Contact Us
Institutional Communications
Bureau of Mines Building, Room 137
Laramie
Laramie, WY 82071
Phone: (307) 766-2929
Email: cbaldwin@uwyo.edu
UW's Cook Takes Point on Online, Digital, Distance Program Initiatives
November 18, 2020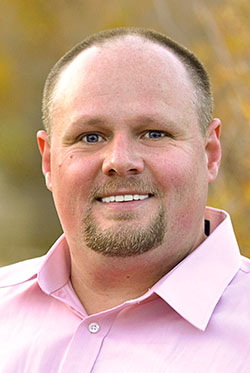 Ben Cook
The director of the University of Wyoming's Master of Business Administration (MBA) Program has accepted a new role focused on boosting the university's overall online programs.
Ben Cook will begin serving as interim associate vice provost for digital, distance and online programs Dec. 1.
"Ben will lead, build and advocate for online education initiatives that will ensure UW meets its strategic mission related to becoming a contender in the field of digital, distance and online education," Interim Provost Anne Alexander says. "He will help us leverage investments in online instruction that we've been able to tap into, thanks to CARES Act funding. I'm really excited to work with Ben, especially given his extremely strong work building and leading our online MBA Program."
Cook has been with the UW College of Business since 2012 and has taught in the MBA Program since 2013. He became the program's director in August 2019, after serving as the senior energy economist for UW's Enhanced Oil Recovery Institute.
"It is always exciting when you have an opportunity to work on something you are passionate about -- and I truly believe that online and distance education is critical to the success and mission of UW," Cook says. "The CARES Act support to help transition our traditional courses to remote delivery during the pandemic means that we now have more courses ready for online than ever before. We have a window here to make a lasting impact, to continue using education as a source of economic and workforce diversification, and serve even more students than we have in the past."
Cook received his B.S. degree in economics (2003) and a Ph.D. degree in economics (2011), both from UW. He attended both Casper College and Laramie County Community College before coming to UW.
"While we have several great distance programs in health care, business and education, there are still many Wyoming residents enrolled in online institutions outside of Wyoming simply because we don't offer what they need. I look forward to helping turn that story around with high-quality, accessible and affordable options right here at home," Cook says. "The great thing about online programs is that borders don't matter -- we can introduce and connect people from all over the world to the great state of Wyoming. Ensuring that the values and personal touch, which are characteristic of the Wyoming brand, shine through in these programs will be critical to our success in a highly competitive market for online education -- that is perhaps the most important touchpoint I hope to emphasize during my time in this role."
Contact Us
Institutional Communications
Bureau of Mines Building, Room 137
Laramie
Laramie, WY 82071
Phone: (307) 766-2929
Email: cbaldwin@uwyo.edu