Contact Us
Institutional Communications
Bureau of Mines Building, Room 137
Laramie
Laramie, WY 82071
Phone: (307) 766-2929
Email: cbaldwin@uwyo.edu
Special Website, Video Created to Honor UW Faculty Promotions
December 16, 2020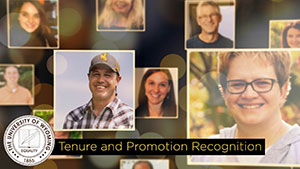 Because of the ongoing COVID-19 pandemic, this year's convocation has been delayed, but a special virtual recognition website has been created to honor University of Wyoming faculty members who have received tenure, promotion or rolling contracts (formerly extended term).
A total of 66 UW faculty members are recognized in a special video message available on the Academic Affairs website at www.uwyo.edu/acadaffairs/academics/awards/faculty/fy21.html.
The special video features welcoming remarks from UW President Ed Seidel; Anne Alexander, UW's interim provost and vice president for academic affairs; and UW Board of Trustees Chairman Jeff Marsh. Individual college deans, including UW-Casper, and school directors are featured in the video introducing and congratulating their respective faculty members receiving recognition.
"The professional milestone reached by faculty who have been tenured or promoted signals the outstanding contributions of these UW faculty to teaching, service, research and creative works, and outreach and engagement with the state," Alexander says. "They epitomize what is best about our faculty -- they are accomplished contributors who work tirelessly and passionately in their fields."
For more information, call the UW Office of Academic Affairs at (307) 766-4286.
Contact Us
Institutional Communications
Bureau of Mines Building, Room 137
Laramie
Laramie, WY 82071
Phone: (307) 766-2929
Email: cbaldwin@uwyo.edu