Contact Us
Institutional Communications
Bureau of Mines Building, Room 137
Laramie
Laramie, WY 82071
Phone: (307) 766-2929
Email: cbaldwin@uwyo.edu
UW's 'Cowboy Cash' Campaign Boosts Laramie Businesses
December 7, 2020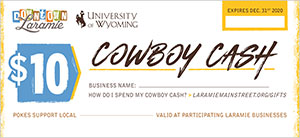 A partnership between the University of Wyoming and Laramie Main Street Alliance has made some small-business owners a little happier as the holidays approach.
Beginning Oct. 30, UW's "Cowboy Cash" program provided $50 in gift certificates to each student who had purchased a university meal plan. As of Dec. 4, businesses in the Laramie community had received $34,500, thanks to "Cowboy Cash" student purchases.
The collaboration between Laramie Main Street Alliance, a grassroots, not-for-profit community development organization, and UW illustrates the role private-public partnerships play in supporting the local economy.
"Seeing students discover downtown and new businesses will pay dividends beyond the initial purchases," says Laramie Main Street Alliance Director Trey Sherwood. "Investments like the 'Cowboy Cash' program illustrate the symbiotic relationship 'town' has with 'gown.' We look forward to working with UW faculty, staff and students in 2021 to stabilize, support and grow our local and regional economy."
The program was implemented using federal CARES Act funding to provide students with additional dining options, while helping offset financial losses within community businesses due to COVID-19.
"Cowboy Cash" still can be redeemed through Dec. 31 at Laramie's small, locally owned businesses that are compliant with Albany County's COVID-19 health and safety guidelines. Businesses that accept "Cowboy Cash" will be reimbursed the full value of the gift certificate.
Requirements for students to spend their "Cowboy Cash" include showing clearance to enter campus via COVID Pass, a health screening tool, followed by completion of the written portion of the certificate, indicating the business at which the student is shopping or dining. "Cowboy Cash" has been used for a wide variety of services in Laramie's local businesses, including food, retail goods and professional services.
Students should visit Laramie Main Street Alliance's website, www.laramiemainstreet.org/gifts, to find a list of participating businesses. In accordance with the recent "Cowboys Can" campaign, UW students shopping and dining at Laramie's small businesses are reminded to continue to follow safe practices, including wearing of masks and social distancing.
If business owners have questions about how to accept "Cowboy Cash," they should email Sherwood at downtownlaramie@gmail.com or visit www.laramiemainstreet.org/gifts.
If students need more information regarding how to redeem the certificates, they should call UW's Division of Student Affairs at (307) 766-5123 or email studentaffairs@uwyo.edu.
Contact Us
Institutional Communications
Bureau of Mines Building, Room 137
Laramie
Laramie, WY 82071
Phone: (307) 766-2929
Email: cbaldwin@uwyo.edu