Contact Us
Institutional Communications
Bureau of Mines Building, Room 137
Laramie
Laramie, WY 82071
Phone: (307) 766-2929
Email: cbaldwin@uwyo.edu
Wyoming Business Council CEO to Keynote UW Virtual Commencement Dec. 12
December 10, 2020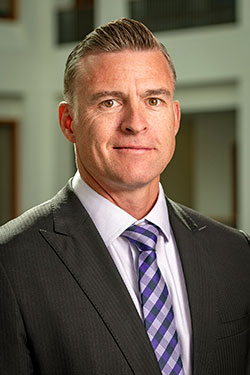 Josh Dorrell
Wyoming Business Council CEO Josh Dorrell will deliver the keynote address to UW's winter 2020 graduates during a virtual commencement ceremony Saturday, Dec. 12, at 10 a.m.
The ceremony is scheduled to last about 30 minutes and will include all colleges and degree levels. It can be viewed by graduates, their families and the public via UW's YouTube channel, and a direct link will be posted on the commencement webpage before Dec. 12.
UW is scheduled to accord degrees upon 648 undergraduate students, 136 graduate students, four College of Law students and one School of Pharmacy student.
"It is important that, during these times, that we do everything we can to honor and celebrate the success of our graduates. What they have achieved during a time of unprecedented adversity is inspirational," UW President Ed Seidel says. "I hope our graduates, their families and friends will join us for their virtual celebration.
"You may note during the ceremony that myself and many of our UW administrators are in formal regalia -- this is with purpose and intent. We view what our students have achieved amid some of the most challenging circumstances in history as inspirational," Seidel continues. "We want every aspect of their graduation ceremony to reflect our respect for the extraordinary work and dedication each has exhibited throughout their academic career, but particularly this last year."
Dorrell, a graduate of UW, became CEO of the Wyoming Business Council in February. In that position, he provides leadership and strategic direction in all aspects of the state's economic development agency, which plays a leading role in diversifying and growing Wyoming's economy through business and community development technical assistance.
Before joining the Wyoming Business Council, Dorrell served as senior vice president of technology services and solutions with Laramie-based Trihydro Corp. since 2015. The engineering and environmental consulting firm started in Laramie in 1984 and today has 22 offices nationwide, and staff resources in 28 states.
Dorrell also teaches at UW as an assistant lecturer in the College of Business. After growing up in Rawlins, he graduated from UW with a degree in mechanical engineering in 1998.
After graduating from UW, Dorrell worked in data management, sales and product development for IDES, a small software company in Laramie. IDES later was purchased by Underwriters Laboratories.
In addition to the keynote address by Dorrell and welcoming remarks by Seidel, other participants of the virtual commencement include UW Board of Trustees Chairman Jeff Marsh, Board of Trustees Treasurer Kermit Brown, Interim Provost Anne Alexander and the deans of UW's colleges and schools.
There will be a tassel-turning (undergraduate students) and hooding (graduate students) moment for the graduates. Graduates also are receiving virtual ceremony commencement packages, which include mortar boards/tams, a ceremony program and other items.
Contact Us
Institutional Communications
Bureau of Mines Building, Room 137
Laramie
Laramie, WY 82071
Phone: (307) 766-2929
Email: cbaldwin@uwyo.edu