Contact Us
Institutional Communications
Bureau of Mines Building, Room 137
Laramie
Laramie, WY 82071
Phone: (307) 766-2929
Email: cbaldwin@uwyo.edu
Global Business Executive to Speak with UW MBA Students
February 25, 2021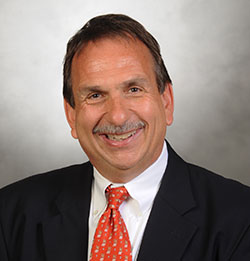 John Accardo
John Accardo, a global business executive from Cody, will speak with University of Wyoming Master of Business Administration (MBA) students Friday, Feb. 26, and Thursday, March 4.
Accardo will meet virtually with full-time MBA students Friday at 10 a.m. and is scheduled for another session with online MBA students at 6 p.m. March 4. He will discuss his personal background, including graduating from UW and returning to the Cowboy State. Accardo will offer UW students career advice and will discuss how he prepared for his professional career as well as the challenges and risks he took to get to where he is now.
He currently is a food and beverage consultant, and has worked as the managing partner of InterContinental Beverage Capital Inc.; served as international vice president for John B. Sanfilippo & Son Inc., a leading snack food producer; held various management positions for Brown-Forman, a beverage company throughout the world; and held different titles with Anheuser-Busch.
"I combine global strategic, commercial and operational expertise to implement new visions, opportunities and alliances for international companies and those preparing global initiatives," Accardo says.
Accardo received his bachelor's degree in economics and his master's degree in finance, both from UW.
For more information, email Tanner Russell, UW College of Business professional graduate programs coordinator, at trusse20@uwyo.edu.
Contact Us
Institutional Communications
Bureau of Mines Building, Room 137
Laramie
Laramie, WY 82071
Phone: (307) 766-2929
Email: cbaldwin@uwyo.edu