Contact Us
Institutional Communications
Bureau of Mines Building, Room 137
Laramie
Laramie, WY 82071
Phone: (307) 766-2929
Email: cbaldwin@uwyo.edu
Cheyenne Attorney to Speak with UW MBA Students
March 3, 2021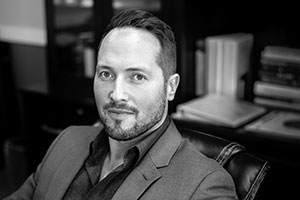 Matt Kaufman
Matt Kaufman, a partner with the law firm of Hathaway & Kunz LLP in Cheyenne, will speak with University of Wyoming Master of Business Administration (MBA) students Friday, March 5.
Kaufman received both his undergraduate and law degrees from UW. He also has a graduate law degree from the University of Colorado-Boulder, and a certificate from the University of Pennsylvania Wharton School's Aresty Institute of Executive Education in financial technology and transformative financial services. In his law practice, he focuses on business, corporate, finance, securities, blockchain, digital assets and technology.
Kaufman is involved in local and regional entrepreneurship as the co-founder of the Wyoming Entrepreneurs group in Cheyenne; has published academic articles on developing entrepreneurship in the state; is counsel to dozens of startup and emerging growth companies, as well as several investment funds; and was among architects for the state's first startup funding grant program, KickStart:Wyoming, which is administered by the Wyoming Business Council.
His most recent ventures include a general partner of Ironhorse Capital LP in Cheyenne, and a partner with BXE Capital in Denver, Colo., a private cryptocurrency/digital asset investment fund that is globally ranked as a top 10 fund.
Govs. Mark Gordon and Matt Mead have appointed Kaufman to various state boards, and he has served on UW and Laramie County Community College boards.
For more information, email Tanner Russell, UW College of Business professional graduate programs coordinator, at trusse20@uwyo.edu.
Contact Us
Institutional Communications
Bureau of Mines Building, Room 137
Laramie
Laramie, WY 82071
Phone: (307) 766-2929
Email: cbaldwin@uwyo.edu