Contact Us
Institutional Communications
Bureau of Mines Building, Room 137
Laramie
Laramie, WY 82071
Phone: (307) 766-2929
Email: cbaldwin@uwyo.edu
Thomas Selected as John P. 'Jack' Ellbogen Dean of UW College of Education
April 14, 2021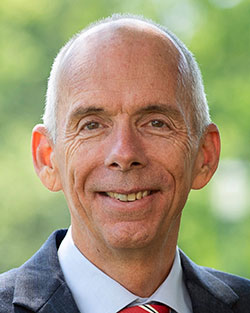 Scott Thomas
An experienced educator and administrator who has held multiple academic dean positions at other institutions has been selected to lead the University of Wyoming's College of Education.
Scott Thomas, most recently the dean of the University of Vermont's College of Education and Social Services, will be UW's first John P. "Jack" Ellbogen Dean of the College of Education. The appointment, effective July 1, was approved today (Wednesday) by the UW Board of Trustees.
"We're excited that an administrator and scholar of Dr. Thomas' stature and experience has agreed to lead a very important academic college at UW," says UW Interim Provost Anne Alexander. "We had a strong group of candidates for this position, and it's great to see that the university's first-ever endowed deanship will be filled by such an outstanding individual."
"Dean Thomas' extensive experience, his eloquence, his enthusiasm and his demeanor made him a clear choice among a group of excellent finalists. His passion for rural education will serve Wyoming well," says incoming Provost and Senior Vice President Kevin Carman. "I'm confident that Dean Thomas also will be an excellent member of the UW leadership team, and I look forward to working with him."
"I am excited to welcome Dean Thomas to Wyoming and the university. We have much to look forward to as he builds on the existing assets of the college and seeks innovative opportunities for the future," says Mary Garland, president of the John P. Ellbogen Foundation, which last year provided the gift to establish the endowed deanship. "I know John P. 'Jack' Ellbogen would be pleased with the leadership Dean Thomas brings for the benefit of education throughout Wyoming."
Thomas has held his current position since 2016 at the University of Vermont, where he also served as interim dean of the university's College of Nursing and Health Sciences for almost two years. Before that, he was dean of the School of Educational Studies at Claremont Graduate University, where he also served as vice president of strategy and academic planning.
"It is a tremendous honor and privilege for me to be named the John P. 'Jack' Ellbogen Endowed Dean of the College of Education," Thomas says. "The college's long-standing commitment to excellence in education catalyzes its prominent role in developing the human capital that will fuel Wyoming's future growth and prosperity. This, along with the college's forward-looking commitments to action with the Trustees Education Initiative and Wyoming School-University Partnership, is what drew me to the College of Education. It is an exciting time to be in Wyoming."
Thomas holds a Ph.D. in education policy, leadership and research methods from the University of California-Santa Barbara, where he also received his bachelor's degree in sociology. His areas of expertise include higher education finance, policy and organizations; the sociology of education; and statistical modeling.
His career also has included faculty positions at the University of Arizona, the University of Hawaii-Manoa and the University of Georgia. He has been editor-in-chief of the Journal of Higher Education and president of the Association for the Study of Higher Education.
"Dr. Thomas is deeply committed to student and faculty success," says University of Vermont Provost and Senior Vice President Patricia Prelock. "His strategic thinking and ability to advance enrollment initiatives have been tremendous assets to the University of Vermont. While we are sad to see him move to another institution, I have no doubt he will bring great energy and insight to this exciting deanship. We look forward to his future success."
The John P. "Jack" Ellbogen Deanship for the College of Education is the most recent gift from the John P. Ellbogen Foundation to UW and was made possible through a long-standing relationship between the two institutions. The generous support of the John P. Ellbogen Foundation has enhanced the trajectory of the College of Education.
Endowed faculty positions empower UW to attract a diverse candidate pool and retain strong educators. The John P. "Jack" Ellbogen Deanship for the College of Education will fund the initiatives led by Thomas and help the College of Education secure a sustainable future for present programs and future innovations that foster excellence and address critical needs and priorities.
John P. "Jack" Ellbogen was a Wyoming native, born in Worland. He attended UW and earned a bachelor's degree in history, a law degree and an honorary doctorate from the College of Business. Ellbogen became an independent oil producer, forming several oil and gas companies.
Ellbogen attributed his success in business to the education he received at UW and was inspired by the outstanding teachers who encouraged him to work to his full potential. He believed in the importance of a quality education and was a strong advocate for teachers.
Contact Us
Institutional Communications
Bureau of Mines Building, Room 137
Laramie
Laramie, WY 82071
Phone: (307) 766-2929
Email: cbaldwin@uwyo.edu