Contact Us
Institutional Communications
Bureau of Mines Building, Room 137
Laramie
Laramie, WY 82071
Phone: (307) 766-2929
Email: cbaldwin@uwyo.edu
Tyler Kerr Named UW Staff Employee of the Year
May 17, 2021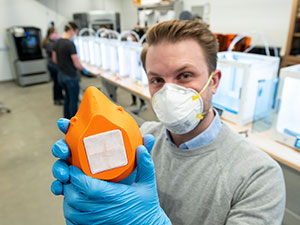 Tyler Kerr, makerspace coordinator in the Innovation Wyrkshop, recently was named UW staff employee of the year. (UW Photo)
Tyler Kerr, the University of Wyoming makerspace coordinator in the Innovation Wyrkshop, recently was named UW staff employee of the year.
Because of COVID-19 concerns, this year's in-person Staff Recognition Day was canceled. The annual event honors the hard-working staff of UW. It provides an opportunity to show all staff members how much they are appreciated for everything they do to keep the main UW campus, and throughout the state, functioning and providing a top-notch educational experience to thousands of students.
Staff Senate posted a video of this year's award winners. To view all of the nominees and winners, click here.
"Due to COVID-19, things have operated a little differently this year, a time where our staff deserves more recognition than ever. Staff Senate would like to acknowledge the grit, resilience and patience that staff has exuded throughout this challenging year. Despite the fear, frustration and uncertainty, they kept going, they showed up, and they did whatever they could to make this year a success," Staff Senate posted in announcing the winners through the video.
The video featured special thank-you messages from UW President Ed Seidel; Interim Provost Anne Alexander; Senior Vice President for Administration and Finance Neil Theobald; Associated Students of UW President Riley Talamantes; Staff Senate Vice President Elizabeth Traver; and Faculty Senate Chair Rudi Michalak.
Kerr was named the UW Staff Employee of the Second Quarter last year. The recognition honored Kerr, who led a student team in the UW College of Engineering and Applied Science's makerspace, in printing nearly 5,000 protective masks and face shields for more than 40 medical centers and schools throughout the state. Kerr and his team also produced small protective face shields for children.
Originally from Massachusetts, Kerr has been at UW since August 2013, initially as a master's degree student in the Department of Geology and Geophysics. He received his undergraduate degree from Franklin & Marshall College in Lancaster, Pa., where he majored in geosciences.
Other staff members honored for their contributions to UW are:
Jodi K. Humphrey Inspirational Staff Award: Cheyenne Niemi, Financial and Administrative Support Team financial affairs associate.
E.G. Meyer Family Award: Cassandra Jenkins, Washakie Dining Center custodial supervisor, and Sally Quade, Academic Technology Services, Desktop Support Team supervisor.
All-Star Team Staff Award: Elizabeth Butkus, Hally Killion, Jenn McKenna, Madison Vance and Marce Vasquez, all Wyoming State Veterinary Laboratory lab technicians.
Custodian of the Year Award: Mary Nottage, Custodial Services.
Skilled Trades Award: James Bartush, Preventive Maintenance technician.
Off-Campus Award: Brandi Roesener and Melisa Valtierra, both Student Educational Opportunity project coordinators. 
Supervisor of the Year Award: Richard Bazan, Electrical Shop manager.
Unsung Hero Award: Jack Chapman, Department of Theatre and Dance senior office associate; Jenn McKenna, Wyoming State Veterinary Laboratory lab technician; Shannon Plumb, Department of Botany senior office associate; and Tammy Rompola, Cowboy Joe Club accountant.
True Grit Award: Jeannie Czech, Department of Criminal Justice and Sociology business manager, and Shaun Ziegler, Department of Psychology business manager.
Pete Simpson Golden Gloves Award: Emily Edgar, Institutional Marketing creative services associate director.
This year, in lieu of an in-person event and release time, Seidel has authorized four hours that will be added to the Comp Bank of full-time and part-time classified staff employees in recognition of their hard work and dedication to UW. This time must be used in a single four-hour block before Aug. 1.
For more information, call the Staff Senate office at 766-5300.
Contact Us
Institutional Communications
Bureau of Mines Building, Room 137
Laramie
Laramie, WY 82071
Phone: (307) 766-2929
Email: cbaldwin@uwyo.edu