Contact Us
Institutional Communications
Bureau of Mines Building, Room 137
Laramie
Laramie, WY 82071
Phone: (307) 766-2929
Email: cbaldwin@uwyo.edu
UW Ph.D. Student Named Postsecondary Career and Technical Education Research Fellow
May 17, 2021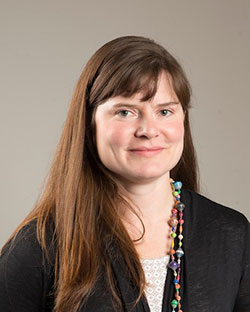 Rosemary McBride
A University of Wyoming Ph.D. student in the College of Education recently was named a 2021 ECMC Foundation Postsecondary Career and Technical Education (CTE) Research Fellow.
Rosemary McBride, who is pursuing a doctoral degree in curriculum and instruction, is one of 14 fellows selected from institutions across the country. Her research sponsor is Lydiah Nganga, an associate professor in the UW School of Teacher Education.
Fellows each will complete a research project that focuses on a topic related to postsecondary CTE. They will present their work at one or more national conferences and submit a manuscript to a nationally recognized academic journal.
For her project, McBride aims to gain a better understanding of how members of rural communities see the benefit of higher education for their future, and what barriers and gaps exist. This information will help guide decisions toward the best modalities and technology relevant for instruction to meet future needs. To learn more about her project, go here.
McBride, who is originally from Rawlins, serves as an instructor in the agriculture program at Laramie County Community College. She is passionate about helping others elevate their life by pursuing a postsecondary credential. She says she has noticed a trend where many people in rural areas are deciding not to pursue further education after high school.
"I am a native of Wyoming's small towns and knew this is where I wanted to return for my research," McBride says. "With this project, I will seek out voices from the diverse cultural communities found in rural areas to better understand why people are turning away from postsecondary education. We often take for granted the diversity in cultural voices that are in rural areas, but rural communities need to grow in ways that support all residents. I feel lucky to develop collaborations and mentors from ECMC's network of postsecondary CTE experts to support this along the way."
Fellows participated in a virtual orientation and training institute April 7. The formal program will run from August 2021 through August 2022. Fellows will attend monthly webinars on research methods; receive mentoring from nationally recognized researchers in CTE; participate in the ECMC Foundation's annual CTE Leadership Collaborative Convening; and attend a training institute in conjunction with the Association for Career and Technical Education Research's national conference in November.
The Postsecondary CTE Research Fellows Program was established in 2018 at North Carolina State University's College of Education. The program was initiated through a three-year, $2 million grant intended to enhance and strengthen postsecondary CTE research and improve student success.
For more information about the program, go to https://cte-fellows.ced.ncsu.edu.
Contact Us
Institutional Communications
Bureau of Mines Building, Room 137
Laramie
Laramie, WY 82071
Phone: (307) 766-2929
Email: cbaldwin@uwyo.edu