Contact Us
Institutional Communications
Bureau of Mines Building, Room 137
Laramie
Laramie, WY 82071
Phone: (307) 766-2929
Email: cbaldwin@uwyo.edu
UW Homecoming Parade Applications Available Now
August 23, 2021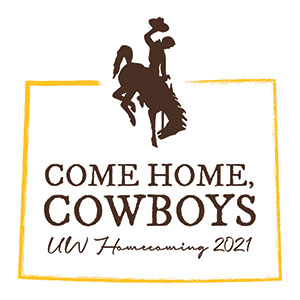 The University of Wyoming Alumni Association (UWAA) is now accepting applications for the 2021 UW Homecoming parade.
The parade application, which includes rules and regulations, is available online at www.uwyo.edu/homecoming.
Applications are due to the UWAA office in the Marian H. Rochelle Gateway Center, located at 222 S. 22nd St., by Monday, Oct. 11, at 4 p.m. They also can be emailed to Marisa Reilly at mreilly@uwyo.edu or faxed to (307) 766-6824.
UW Homecoming is Oct. 16-23, with the parade scheduled at 9:30 a.m. Saturday, Oct. 23. The parade will begin at Ninth Street and Ivinson Avenue.
This year's Homecoming theme is "Come Home, Cowboys." UniWyo Federal Credit Union is the sponsor of this year's Homecoming.
For more information about the parade, call Reilly in the UWAA office at (307) 766-4166 or email mreilly@uwyo.edu.
Contact Us
Institutional Communications
Bureau of Mines Building, Room 137
Laramie
Laramie, WY 82071
Phone: (307) 766-2929
Email: cbaldwin@uwyo.edu