Contact Us
Institutional Communications
Bureau of Mines Building, Room 137
Laramie
Laramie, WY 82071
Phone: (307) 766-2929
Email: cbaldwin@uwyo.edu
UW Lecturer to Use Amazon's Alexa Flash Briefings to Drive UW Student Success, Engagement
August 23, 2021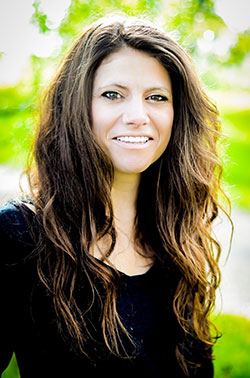 Tiffany Hunt
"Alexa, play today's flash briefing for EDEX 5720."
Tiffany Hunt, an associate lecturer in the University of Wyoming School of Counseling, Leadership, Advocacy and Design, will use Amazon's Alexa flash briefings so that her students can use voice commands and a range of devices to access course content and updates starting this fall.
Hunt is the 2021 recipient of the Everett D. and Elizabeth M. Lantz Distinguished Professorship in Education. She will use funds from the award to explore how flash briefings can encourage student engagement in educational settings.
The award, endowed by the Lantz family, was established to attract and retain outstanding scholars and teachers with a proven track record and national reputation in their chosen fields. The professorship provides salary or discretionary funding to enhance the recipient's research and teaching programs for two years.
Hunt's project is in response to changes in technology and education that enable learning to take place anywhere at any time. The new generation of student is used to a constant barrage of data and information. These students want to sort through this information independently and expect to have a variety of digital tools to help them understand it all.
"Currently, students in my online courses access information through the Canvas learning management system. This system provides multiple tools and features to elevate online instruction. However, students generally must use computers, smartphones or tablets to access them," Hunt says. "Flash briefings have the potential to provide the 21st century student with instruction without boundaries, via tools the student chooses."
Alexa flash briefings can provide course content on several different devices. Not only can students access instruction through computers, smartphones and tablets, but also via smart speakers and other artificial intelligence devices, such as those embedded in eyeglasses, rings and vehicles. Since these devices may be accessed via voice, students are not required to visually engage with the content, enabling them to learn while driving, cooking, exercising or traveling.
In the 2021-22 school year, Hunt will focus on creating succinct and targeted Alexa flash briefings that have a conversational feel and align with course content. To offer personalization and meet the needs of adult learners, students will be asked to generate questions or present real-world problems aligned to the course. These queries will be explored and addressed via regularly scheduled Alexa flash briefings.
In year two of the study, Hunt will support interested faculty members in developing Alexa flash briefings for their own courses, both at UW and other institutions, such as the University of Illinois-Chicago. Additionally, Hunt will work collaboratively with Region V BOCES to develop statewide Alexa flash briefings. This unique form of professional development will address specific questions from educators in Wyoming and feature key experts from within the state and across the country.
Throughout the study, Hunt will collect and synthesize a variety of qualitative and quantitative data sets. Results will inform the flash briefing development process and the potential impact flash briefings have on student and educator engagement and learning. 
"As of now, there is no research on the use of Alexa flash briefings to share content in higher education courses," Hunt says. "This project is a first step toward closing this gap by starting to analyze the effectiveness this content modality offers to students in higher education. When used appropriately, flash briefings may hold promise in extending learning tools among university students."
Contact Us
Institutional Communications
Bureau of Mines Building, Room 137
Laramie
Laramie, WY 82071
Phone: (307) 766-2929
Email: cbaldwin@uwyo.edu