Contact Us
Institutional Communications
Bureau of Mines Building, Room 137
Laramie
Laramie, WY 82071
Phone: (307) 766-2929
Email: cbaldwin@uwyo.edu
UW's Willhaus Named to Editorial Board of Health Care Publication
September 27, 2021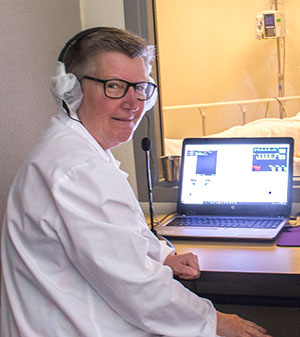 Janet Willhaus
Janet Willhaus, an associate professor in the University of Wyoming's Fay W. Whitney School of Nursing, has been named to the editorial board of STORM magazine.
STORM stands for Simulation Technician Operations Resource Magazine. It is a new publication of the Society for Simulation in Healthcare (SSH).
"It will highlight the work of people who work in the operations of health care simulation and not the teaching side," Willhaus says.
Willhaus serves as assistant dean for academic affairs in the UW School of Nursing, and she also is the master's degree program director. Her credentials include being a certified health care simulation operations specialist, an indicator of expertise in how to run a simulation program.
"Only a handful of people in the country meet these requirements," Willhaus says.
STORM editorial board members must have at least two years in a health care simulation operations/education role. They also must have experience reviewing conference submissions, publications or similar events or resources that require subject-matter expert review; and be a current SSH member.
STORM was created to highlight nonscholarly work that contributes to advancement in the field of health care simulation operations. Along with creating a prestigious publication as a resource for the health care simulation community, the role of the editorial board also is to advise and support the editor-in-chief.
For more information about STORM, email storm@ssih.org.
Contact Us
Institutional Communications
Bureau of Mines Building, Room 137
Laramie
Laramie, WY 82071
Phone: (307) 766-2929
Email: cbaldwin@uwyo.edu