Contact Us
Institutional Communications
Bureau of Mines Building, Room 137
Laramie
Laramie, WY 82071
Phone: (307) 766-2929
Email: cbaldwin@uwyo.edu
College Basketball Analytics Expert Ken Pomeroy to Speak at UW Oct. 22
October 21, 2021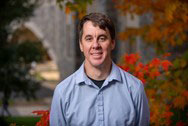 Ken Pomeroy
College basketball's foremost analytics expert, whose work is used to help determine which teams will advance in postseason play -- most notably the NCAA Championships -- will speak Friday, Oct. 22, at the University of Wyoming.
Ken Pomeroy, a 1999 UW master's degree graduate in atmospheric science, is the 2021 H.T. Person Distinguished Speaker for UW's College of Engineering and Applied Science.
He will discuss "The Crossover: Using Meteorological Principles to Predict Basketball Outcomes," both in person and virtually, at 3 p.m. in Room 255 of the Engineering, Education and Research Building. Participants also can view the discussion on Zoom with the meeting ID at 917 5875 5735 and using passcode 855491. The event is free and open to the public.
Pomeroy developed the Pomeroy College Basketball Ratings (www.KenPom.com), an algorithm to predict success of teams using multiple sets of data for each squad in the nation. His work has been referenced in The New York Times, ESPN.com, Sports Illustrated and many college basketball-related outlets. Coaches and media alike use the metrics to form educated opinions on which teams will advance in postseason play. Coaches, media and fans also have used his work.
After earning a degree in civil engineering in 1995 from Virginia Tech, he designed roadways in Maryland, but he wanted to pursue an interest in meteorology. He knew he was changing careers, so he thought he would go someplace he had never been before. He saved up for a few years, applied to UW's atmospheric science program in 1997, and came to Laramie
In his talk, Pomeroy will discuss how the lessons learned from predicting the weather have helped him succeed in the sport.
The H.T. Person Professorship in Engineering Education was named in honor of H.T. Person, who served UW from 1929 to 1968 as a professor of civil engineering, head of the Department of Civil Engineering, dean of the college and 16th president of the university.
Contact Us
Institutional Communications
Bureau of Mines Building, Room 137
Laramie
Laramie, WY 82071
Phone: (307) 766-2929
Email: cbaldwin@uwyo.edu