Contact Us
Institutional Communications
Bureau of Mines Building, Room 137
Laramie
Laramie, WY 82071
Phone: (307) 766-2929
Email: cbaldwin@uwyo.edu
UW Literacy Research Center and Clinic Announces Interim Executive Director
May 31, 2022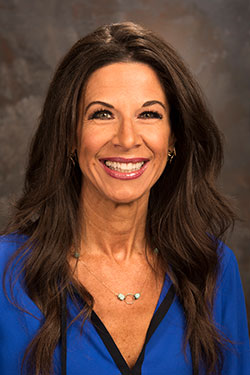 Kimberly Gustafson
Kimberly Gustafson has been named the interim executive director of the University of Wyoming Literacy Research Center and Clinic (LRCC).
She will begin her new role July 1 and serve until the UW College of Education completes a search for the inaugural Fisher Family Professor and executive director of the LRCC.
Gustafson, who is a senior lecturer in the School of Teacher Education, will succeed Amy Spiker, who will join the faculty of Abilene Christian University in the fall.
"I am positively honored to serve as the interim executive director. I have admired the work of the LRCC for years, and I am excited to continue to grow the field-based projects, tutoring and research that the LRCC is renowned for," Gustafson says. "I look forward to working with the educational communities of Wyoming in a new capacity."
As interim executive director, Gustafson will work with partners at UW, the state's public schools, government organizations and policymakers to carry out the LRCC's strategic plan. The work focuses on supporting K-12 students in literacy growth through support in the clinic; empowering current K-12 teachers through professional development; and designing and conducting research to support the advancement of literacy practices.
"Dr. Gustafson brings considerable energy to the interim director position. She is greatly respected across Wyoming, and we are extremely fortunate to have someone with her experience working with schools and communities in all corners of the state," says Scott Thomas, the John P. "Jack" Ellbogen Dean of the College of Education. "We are excited to engage in the center's work across this interim period with Dr. Gustafson at the helm."
A longtime UW community member, Gustafson earned her B.A. in elementary education in 1998. She returned to UW and completed an M.A. in educational leadership in 2003, followed by a Ph.D. in educational leadership in 2009.
After starting her career as an elementary classroom teacher, Gustafson began her role as an instructor in the School of Teacher Education in 2007. Her research interests include social studies and literacy integration in the elementary classroom, co-teaching, instructional leadership, teacher efficacy, school-university partnerships and mentoring pre-service teachers.
Gustafson has served in numerous leadership roles at UW, including Elementary Education Program coordinator; chair of the Student Interaction Committee; chair of the College of Education Student Appeals Committee; member of the College of Education Tenure and Promotion Committee; and past member of the University Studies Program Committee. Her honors at UW include being selected as the speaker at the 2009 graduate commencement ceremony and having her dissertation recognized with the Northern Rocky Mountain Educational Research Association's Distinguished Paper Award in 2010.
"I have been in classrooms all over the state observing pre-service teachers for the past 15 years. I have met hundreds of educators and observed hundreds of hours of teaching," Gustafson says. "These observations and conversations have provided deep insight that will guide me as interim executive director of the LRCC. Additionally, my experience working with educational communities, using research to guide practice, providing feedback and conducting professional development opportunities will guide my work in this new role."
Gustafson will continue to use the talents and expertise of the UW LRCC to support literacy and make a positive impact on students throughout the state.
"I hope to make further connections and engage with teacher-leaders, teachers, students, families and communities in an effort to continue to enhance our work with schools around the state," Gustafson says. "The best way to have an impact on literacy education is by continuing to work and collaborate throughout Wyoming."
Contact Us
Institutional Communications
Bureau of Mines Building, Room 137
Laramie
Laramie, WY 82071
Phone: (307) 766-2929
Email: cbaldwin@uwyo.edu