Contact Us
Institutional Communications
Bureau of Mines Building, Room 137
Laramie
Laramie, WY 82071
Phone: (307) 766-2929
Email: cbaldwin@uwyo.edu
Windy Ridge Foundation Astro Camp Scheduled July 17-23 at UW
May 11, 2022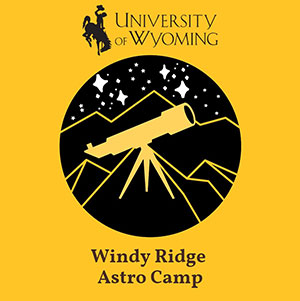 A few select middle school students from four states will have an opportunity this summer to explore traveling to and colonizing planets during the Windy Ridge Foundation Astro Camp July 17-23 on the University of Wyoming campus.
Twenty-four students from all backgrounds and economic statuses will be selected from Wyoming, Colorado, Nebraska and South Dakota. The camp is free to selected participants. The application deadline was May 6. Participants will soon be selected with a goal of having an equal number of male and female campers.
Campers, who will be entering seventh or eighth grade this fall, are chosen based on demonstrated interest and academic potential in math, science, astronomy and space. As part of the application process, students had to submit written essays on why they wanted to attend the science camp.
"We'll explore the math, science and engineering behind traveling to and colonizing planets outside of our solar system," says Danny Dale, the Harry C. Vaughan Professor of Astronomy in the UW Department of Physics and Astronomy, and an associate dean in the College of Arts and Sciences. "In addition to math, astronomy, physics and engineering, we will do a lot of biology, including designing growth chambers for plants that rely on LED lighting instead of sunlight; testing and purifying water samples; and learning how to test for 'alien' DNA."
Dale says he wants camp attendees to take away "an excitement for and understanding of science, and an exposure to engineering design principles."
"Most importantly, we want to give them confidence that they, too, can become scientists and engineers and mathematicians," Dale says. 
The camp includes three in-service Wyoming science teachers and five UW undergraduate students who will serve as camp counselors. On-campus housing and dining will be provided for attending students. Once again, campers will take field trips to the local mountain ranges.
"We'll do a day hike in Vedauwoo, looking for food, shelter and water. We call that our 'alien landscape hike,' something they would have to do if they were to actually explore new planets," Dale explains. "And we'll do a day hike in the Snowies, where we'll learn how to identify many different plant species as well as gathering plant and water samples for later analysis in the lab."
In 2020, the Windy Ridge Foundation made a $250,000 gift to support the Windy Ridge Foundation Astro Camp, which aims to educate the next generation of scientists and engineers while introducing the K-12 community to science programs offered through UW. The gift provided enough funding for five years of the camp, Dale says. This year's camp marks the second year of funding by Windy Ridge.
Contact Us
Institutional Communications
Bureau of Mines Building, Room 137
Laramie
Laramie, WY 82071
Phone: (307) 766-2929
Email: cbaldwin@uwyo.edu