Contact Us
Institutional Communications
Bureau of Mines Building, Room 137
Laramie
Laramie, WY 82071
Phone: (307) 766-2929
Email: cbaldwin@uwyo.edu
Andy Wheelock Band to Perform in UW Summer Concert Series June 15
June 10, 2022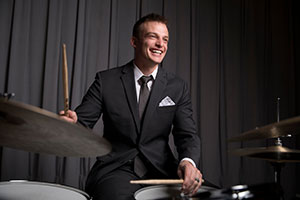 Andy Wheelock
The Andy Wheelock Band will perform in the University of Wyoming's Summer Concert Series from 11:45 a.m.-1 p.m. Wednesday, June 15, on Simpson Plaza.
The Summer Concert Series -- free and open to the public -- features a different band each Wednesday in June and July, except for June 22 and July 6. Lunch will be available to purchase for $9. UW's 7220 Entertainment sponsors the concerts this summer.
Wheelock is the UW Department of Music's percussion area coordinator. He leads Jazz Ensemble II; teaches percussion methods and percussion lessons; and directs the UW Percussion Ensemble, for which he regularly composes. His latest CD, "View From Here," was released last fall.
Wheelock is an active jazz drummer and percussionist who has performed with numerous notable musicians. His music is from a wide variety of genres, including jazz, classical, Afro-Cuban, hip-hop, Brazilian, funk, gospel and traditional African folk music.
For more information about the Summer Concert Series, go to 7220 Entertainment's Facebook page.
Individuals needing assistance to attend the concert should email Alejandra Prado Cardenas at apradoca@uwyo.edu.
Contact Us
Institutional Communications
Bureau of Mines Building, Room 137
Laramie
Laramie, WY 82071
Phone: (307) 766-2929
Email: cbaldwin@uwyo.edu