Contact Us
Institutional Communications
Bureau of Mines Building, Room 137
Laramie
Laramie, WY 82071
Phone: (307) 766-2929
Email: cbaldwin@uwyo.edu
Spring Issue of UWyo Magazine Offers Guide for Incoming Students
June 13, 2022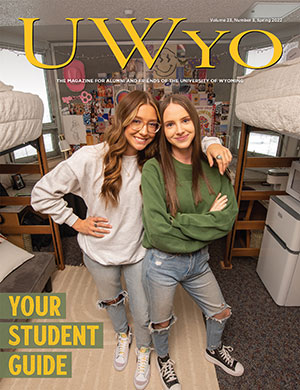 The spring issue of UWyo Magazine -- the University of Wyoming's flagship publication -- provides a guide for new students with advice from experts and Cowboy Coach upperclassmen. 
Topics include what students wish they'd known sooner; keys to academic success; all aspects of wellness; career success; getting involved; "adulting"; university traditions; and an article for parents by parents. Additional sections include alumni spotlights and a feature on UW's new char-brick coal demonstration house.
"We are home to so many impressive students and programs," says UWyo Magazine Managing Editor Micaela Myers. "By tapping into UW's student Cowboy Coaches, we're able to provide incoming students with advice straight from their peers. We also interviewed experts across campus to let students know the plethora of resources available, plus the best tips for all aspects of student success. We hope alumni and other readers will share this issue with the young people in their lives."
One of the student Cowboy Coaches featured in the issue is chemistry senior Erin McDonald, of Colorado Springs, Colo.
"Being a UW Cowboy is honestly a blessing," she says. "Not everyone gets to experience the family you gain when you enroll and graduate here, and I think that's awesome. It's like we have our own little slice of heaven."
To new students, she adds: "Take advantage of it, love it, never give it up, and help us Cowboys make the world a better place."
"Being a college student is not always easy but is very worth it. I cannot wait to use my degree to help children in need and become an advocate for the youth community," says fellow Cowboy Coach Ciara Thompson, a senior social work major from Sterling, Colo. "UW has many resources that can help you succeed and achieve those future goals."
Over a dozen students are featured in the issue, along with numerous experts. To make the issue easily shareable, it's available in a digital flipbook or online at www.uwyo.edu/uwyo.
UWyo Magazine is published two times a year in print and digital formats, and once a year in a digital-only format.
Contact Us
Institutional Communications
Bureau of Mines Building, Room 137
Laramie
Laramie, WY 82071
Phone: (307) 766-2929
Email: cbaldwin@uwyo.edu