Contact Us
Institutional Communications
Bureau of Mines Building, Room 137
Laramie
Laramie, WY 82071
Phone: (307) 766-2929
Email: cbaldwin@uwyo.edu
UW's Nathanielsz Receives Lifetime Achievement Award
August 18, 2022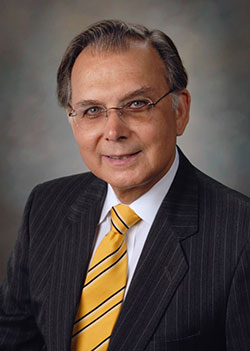 Peter Nathanielsz
University of Wyoming animal science Professor Peter Nathanielsz is the 2022 recipient of the Barker Medal of the International Society for the Developmental Origins of Health and Disease. He will receive the award from the association in Vancouver, British Columbia, later this month.
Nathanielsz, a Distinguished Research Professor of Life Course Studies within the UW College of Agriculture, Life Sciences and Natural Resources, conducted research with the late UW Professor Stephen Ford and graduate students who were instrumental in identifying mechanisms responsible for developmental programming in sheep, cattle and pigs. The graduate students were Nathan Long, from Anderson, S.C.; Frederick Odhiambo, of Homabay, Kenya; and Christopher Pankey, from Craig, Colo.
The Baker medal is named after David Barker, whose groundbreaking human epidemiological studies in the 1990s laid the foundations for the science of developmental programming. His work showed that the environment in which the fetus and newborn develop greatly influences that individual's life course health and susceptibility to chronic diseases such as heart disease, obesity and diabetes.
The award committee noted Nathanielsz' novel contributions showing that developmental programming can even influence the rate at which humans age. The educational benefit of his more than 600 major publications in spreading knowledge of developmental programming also was cited.
The second edition of Nathanielsz' book titled "Life Before Birth: The Challenges of Fetal Development" was released earlier this month. The first edition of his book was published in 14 languages.
Nathanielsz, who has been at UW since 2015, was the director of the Center for Pregnancy and Newborn Research at the University of Texas Health Science Center. His career also included work at Cornell University, New York University, the UCLA School of Medicine and England's Cambridge University.
Contact Us
Institutional Communications
Bureau of Mines Building, Room 137
Laramie
Laramie, WY 82071
Phone: (307) 766-2929
Email: cbaldwin@uwyo.edu