Contact Us
Institutional Communications
Bureau of Mines Building, Room 137
Laramie
Laramie, WY 82071
Phone: (307) 766-2929
Email: cbaldwin@uwyo.edu
Nobel Prize-Winning Economist to Speak at UW Tuesday
September 26, 2022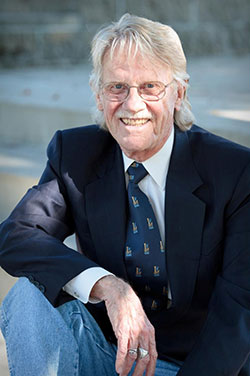 Vernon Smith
Nobel Prize-winning economist Vernon Smith is scheduled to speak at 4 p.m. Tuesday, Sept. 27, at the University of Wyoming's Marian H. Rochelle Gateway Center.
The public is invited to the event, which also will be livestreamed at www.uwyobiz.com/vswc.
Smith, a member of the faculty at Chapman University, won the 2002 Nobel Prize in economics and is known as the father of experimental economics. He will have a wide-ranging discussion with UW College of Business Dean Scott Beaulier on topics including current trends in higher education, free speech on campuses and changes in the contemporary economic and political landscape over Smith's career.
A question-and-answer session is planned as well.
Smith received his bachelor's degree in electrical engineering from Caltech in 1949; an M.A. in economics from the University of Kansas in 1952; and his Ph.D. in economics from Harvard University in 1955. His career has included work at Purdue University, Brown University, the University of Massachusetts, the University of Arizona, George Mason University and the University of Alaska-Anchorage.
Smith has joint appointments with the Argyros School of Business and Economics and the Fowler School of Law, and he is part of a team that has created and will run a new Economic Science Institute at Chapman. He has written or co-written more than 350 articles and books on capital theory, finance, natural resource economics and experimental economics.
Contact Us
Institutional Communications
Bureau of Mines Building, Room 137
Laramie
Laramie, WY 82071
Phone: (307) 766-2929
Email: cbaldwin@uwyo.edu