Contact Us
Institutional Communications
Bureau of Mines Building, Room 137
Laramie
Laramie, WY 82071
Phone: (307) 766-2929
Email: cbaldwin@uwyo.edu
UW Assistant Dean of Students Recognized by Local Community Organization
September 29, 2022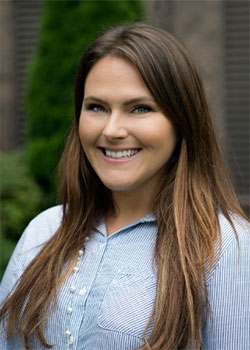 Libby Thorson
Libby Thorson, the University of Wyoming's assistant dean of students, recently received Albany County SAFE Project's Jane Warren Commitment to Advocacy Award.
SAFE Project, a nonprofit organization, supports survivors of domestic violence, sexual assault, stalking and family violence. During its annual fundraising event, SAFE Project honors a community member with the Jane Warren Commitment to Advocacy Award. Warren, a former UW Counselor Education Program assistant professor, founded SAFE Project in 1980 to bring aid and support to survivors in Albany County. Recipients are community members who embody the spirit of Warren.
Through a continued partnership with UW, SAFE Project has a confidential advocate located on campus in UW's Dean of Students Office.
Through her role as UW's assistant dean of students and deputy Title IX coordinator, Thorson was recognized for her work to support UW students who have reported interpersonal violence.
"Libby embodies our mission and ensures that young people in our community have access to every resource," says SAFE Project Director Faryn Babbitt. "Libby makes sure the students that she and the university team connect with are referred for SAFE Project support."
Before coming to UW, Thorson worked at the University of Wisconsin-La Crosse as a coordinator with the Center for Women and Gender Equity, where she developed programming related to relationship violence, gender equity, healthy sexuality, bodily autonomy and bystander intervention.
Thorson, who has been at UW since 2017, was promoted to UW assistant dean of students and deputy Title IX coordinator in 2020. She manages the intake process for students who report incidents of interpersonal violence and ensures that all parties understand process options and support resources that are available.
UW Dean of Students Ryan O'Neil says Thorson is committed to making sure students can navigate impacts to their academics by connecting with professors, financial aid and other campus departments. In this current role, Thorson also oversees the staff of student conduct and violence prevention work.
"The University of Wyoming is fortunate to have such an outstanding individual attending to the uniquely sensitive support needs of students reporting interpersonal violence," O'Neil says. "Libby's hard work makes our campus a safer and more supportive place."
Dakota Metzger, SAFE Project's campus advocate, also praises Thorson's work with UW students.
"I can feel my clients are safe in Libby Thorson's hands. She treats every person who walks through her door with empathy and compassion," Metzger says. "Libby listens intently and meets the needs she can, all while ensuring students are connected to someone who can help with anything else. I am privileged to work with Libby and have learned so much from her."
Community members can speak with an advocate any time by calling SAFE Project's 24-hour hotline at (307) 745-3556.
For more information about filing an interpersonal violence report, visit www.uwyo.edu/reportit/ or call UW's Equal Opportunity Report and Response unit at (307) 766-5200. For additional support, resources for students also can be found on the Dean of Students Office website at www.uwyo.edu/dos/.
Contact Us
Institutional Communications
Bureau of Mines Building, Room 137
Laramie
Laramie, WY 82071
Phone: (307) 766-2929
Email: cbaldwin@uwyo.edu