Contact Us
Institutional Communications
Bureau of Mines Building, Room 137
Laramie
Laramie, WY 82071
Phone: (307) 766-2929
Email: cbaldwin@uwyo.edu
UW Pharmacy School Grad Wins Spot in Princeton Ph.D. Prep Program
September 1, 2022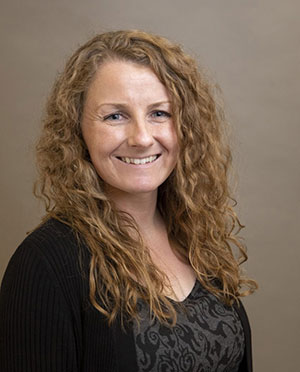 Kirsten Underwood
A recent graduate of the University of Wyoming's School of Pharmacy in the College of Health Sciences has been accepted into Princeton University's Prospective Ph.D. Preview (P3) Program.
Kirsten Underwood, a native of Bishop, Calif., applied to the highly competitive program before graduating in May of this year in preparation for the process of earning her Ph.D.
As a first-generation college student, Underwood fulfilled an application requirement to the Princeton program, which seeks to increase the number of people from underrepresented populations in Ph.D.-level education and career experiences.
"I am excited to meet with students and faculty at Princeton and see what graduate school looks like at another institution," Underwood says. "At P3, I hope to gain insight into the graduate school admissions process and prepare a competitive application to submit to Ph.D. programs this fall."
Underwood -- whose fondly dubbed nickname in her pharmacy school lab was "Mayhem," partly because of her excited pursuit of her project on spinal cord injury -- has her career plans directed toward research involving the immune system and treating patients with trauma.
While all pharmacy students' education includes understanding the uses and treatments of medications, "Kirsten's heart was truly that of a scientist," says Kurt Dolence, an associate professor of medicinal chemistry in the UW School of Pharmacy. "She was truly dedicated to her time doing research in the lab, often staying late and showing up outside of class times."
Much of Underwood's time as a pharmacy student was shared both in Dolence's classroom and in the Mruk Lab, where research is focused on nervous system injury, degeneration and regeneration using zebrafish as a model. Zebrafish have a remarkable regenerative capacity, and the lab is interested in understanding the role bioelectricity plays and genetic factors that govern this process.
"Kirsten was always immersed in her clinical studies and her work with studying the regenerative capabilities of our zebrafish," says Karen Mruk, an assistant professor of pharmaceutical science. "She has presented at conferences related to her research and is in the process of writing two research papers -- virtually unheard of for a student taking the credit load required of PharmD students."
Both Dolence and Mruk note the successful application for Underwood's entry in the weeklong Program is due, in large part, to her own determination and dedication to her studies and research. However, the growing presence of a research culture in the UW School of Pharmacy is helping propel students toward goals similar to Underwood's.
"Faculty-driven research, such as that taking place in the Mruk Lab, is steadily increasing, with the addition of faculty eager to help students with a passion for learning outside of their normal pharmacy school experience," Dolence says.
"It's really the best part of my job to help students find their passion and facilitate their pursuit of this passion through programs across the country aimed at helping them succeed," Mruk says.
Once Underwood completes the P3 Program at Princeton, she will be fully equipped to apply to and succeed at educational institutions throughout the country that offer Ph.D.-level curriculum aimed at her research and career goals.
"I'm fortunate in my mentors at the University of Wyoming," Underwood says. "Their open doors, candid conversations and belief that I could meet their high expectations enabled me to pursue my passion for research."
Contact Us
Institutional Communications
Bureau of Mines Building, Room 137
Laramie
Laramie, WY 82071
Phone: (307) 766-2929
Email: cbaldwin@uwyo.edu