Contact Us
Institutional Communications
Bureau of Mines Building, Room 137
Laramie
Laramie, WY 82071
Phone: (307) 766-2929
Email: cbaldwin@uwyo.edu
UW Reaches 'New Starting Point,' President Says
September 6, 2022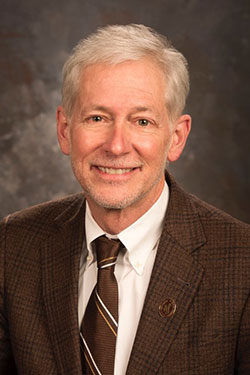 Ed Seidel
With the COVID pandemic easing, the financial outlook improving and academic reorganizations unfolding, the University of Wyoming has reached "a new starting point," President Ed Seidel says.
During his annual "State of the University" address Thursday, UW's 28th president noted progress on numerous priorities and outlined key objectives to lift Wyoming's university to new levels of excellence.
"We're excited about where we're going," Seidel told the UW faculty and staff members assembled in the Wyoming Union Ballroom, as well as several hundred watching online. "We're going to really need your help -- all hands on deck -- going forward, but maybe under a better condition than when we started a couple of years ago. We've stabilized our team, made a lot of investments in staff and faculty, and student success initiatives … We're making progress, off to a fresh start."
After absorbing significant reductions in state funding in the previous biennium, Seidel noted the university -- in the 2022 legislative session -- received new funding for a variety of purposes, including construction of new facilities and the first employee pay raises in several years. While acknowledging the importance of the new construction -- which includes new student residence halls, an addition to the College of Law Building, remodeling of the west-side stands in War Memorial Stadium and a new natatorium -- the president said his team's focus is on "people and programs" moving forward.
That's in part because, he acknowledged, past budget reductions have created challenges with staffing, workload, compensation and morale for staff and faculty members.
"We have to do a lot to shore up the foundations of this university," he said. "We're going to do everything we can to grow the faculty and the staff, and to reward them as we need to."
Seidel expressed optimism that funding for additional pay raises will be forthcoming in the 2023-24 fiscal year. In the meantime, he noted several initiatives unfolding now for as many as 25 additional faculty hires, as well as new graduate assistantships.
Some of those new hires will take place in UW's new School of Computing, which will be joint appointments with other units on campus to help infuse applied computing across the university. Making UW more digital is one of Seidel's four priority directions -- sometimes referred to as pillars -- along with driving more entrepreneurism, interdisciplinarity and inclusiveness.
These directions are reflected in a new strategic plan now under development for the university, which Seidel said aims to drive institutional excellence; student success; service to the state; building of community; and financial stewardship. A draft of the strategic plan, created following dozens of listening sessions and "idea labs" in the past year, is now open for comment and will be presented to UW's Board of Trustees later this academic year.
Some of the other topics addressed by the president were:
-- Student success -- Efforts to improve UW's student retention rate -- which declined as a result of the pandemic -- are underway, he noted. These include the new Saddle Up onboarding program for first-time freshmen; the Cowboy Coaches peer mentoring program; and the Navigate app for student advising.
-- Enrollment -- He said it appears UW's new freshman class is significantly larger than last fall -- the official 15-day number will be reported later this month -- and overall revenue from student tuition and fees currently is up 4.5 percent over last year. The university is working to recover from a pandemic-driven enrollment decline and grow beyond its pre-pandemic overall enrollment figure.
-- New initiatives -- In addition to the School of Computing, Seidel noted the launch of the Wyoming Innovation Partnership with the state's community colleges; of the Wyoming Center for Entrepreneurship and Innovation; and of the Wyoming Outdoor Recreation, Tourism and Hospitality initiative.
-- Fundraising -- Noting that UW's endowment totals nearly $800 million -- particularly large for a university of UW's size -- Seidel briefly discussed new collaborative efforts with the UW Foundation to raise private support for faculty excellence and student success.
-- Research -- The university is mobilizing to secure new research funding expected to become available under the federal CHIPS and Science Act, which Seidel noted includes prioritization of projects in rural areas of the country, such as Wyoming and the Intermountain West.
A full recording of the president's speech -- along with remarks by the leaders of the Faculty Senate, the Staff Senate and the Associated Students of UW -- is available for viewing on WyoCast and YouTube.
Contact Us
Institutional Communications
Bureau of Mines Building, Room 137
Laramie
Laramie, WY 82071
Phone: (307) 766-2929
Email: cbaldwin@uwyo.edu