Community Development Education
University of Wyoming Extension
Programs & Services:
Navigating Community Change
Wyoming communities experience changes as a result of energy development or decline, shifts in demographics, and changing economies. Through community-focused education and services, the CDE team can help.
Education
Understanding the change process and community involvement are key in a community navigating through change successfully. The CDE team provides education on the Social Action Process, community change, community capitals, engaging groups and other relevant topics.
Facilitation
In addition to education, the CDE team provides facilitation and meeting moderation for community groups and organizations.
Local Government, Nonprofit Governance, and Leadership Development quick links on the right (left) provide additional resources for communities dealing with change.
Community Economic Analysis
Wyoming's communities need data analysis to assess how changes brought on by proposed actions in local communities contribute (or reduce) jobs and income. Apart from economic impact studies, specialists in the University of Wyoming's Department of Agricultural & Applied Economics monitor and investigate trends in Wyoming's economy to see how changes over time affect Wyoming's economic growth prospects.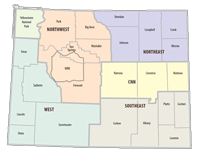 Contact your area educator about developing programs to address your specific needs.