Community Development Education
University of Wyoming Extension
Programs & Services:
Entrepreneurship
Members of the Community Development Education team provide training to assist local businesses and family enterprises to help them grow and prosper. These efforts are often in partnership with other UW Extension teams and citizen groups.
Agricultural Enterprise Development
UW Extension strives to improve and diversify our communities through the entrepreneurial enterprises in rural, small, micro and family businesses. Programs include
The Annie's Project program for women involved in agriculture. This six-session program builds a network of peers and builds familiarity with how to manage the five classes of risk faced by agriculture (production, legal, marketing, financial and human).
Enterprising Rural Families (ERF) There are limited resources that focus on the family aspect of rural family business. ERF is an objective, research-based online program for rural businesses. The primary focus of this self-paced program is the issues and challenges facing family-members in the business.
One-time trainings on specifics topics of interest such as financial management, marketing, niche markets, record keeping, succession planning, production management and so on.
Transition planning trainings to help producers transfer the management and ownership from one generation to the next.
Self-study courses are available at RightRisk.org (under Products). Some specific programs are listed in the Ag and Natural Resources program area. References can be found at the Western Risk Management Library.
One-on-one assistance and informational resources with individual venture managers and families.
Information on the physical operations of many ag venture through UW Extension is available at http://www.uwyo.edu/uwe/programs/ag-and-natural-resources.html.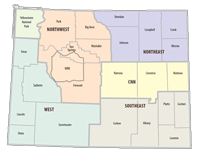 Contact your area educator about developing programs to address your specific needs.