Community Development Education
University of Wyoming Extension
Programs & Services:
Interpersonal Skill Development
Interpersonal skills, which are also known as people skills, are critical components of effective leadership. CDE team members empower organizations, enterprises and individuals by providing them with the skills they need to affect change in their communities.
Examples of Workshop Topics
Dealing with Conflict
Creativity Time Management
Ethics Decision Making
Communication
Listening
Dealing with Difficult People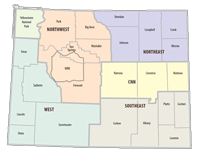 Contact your area educator about developing programs to address your specific needs.