Community Development Education
University of Wyoming Extension
Programs & Services:
Nonprofit Governance
To create strong Wyoming entities, the CDE team offers a variety of ways to build knowledgeable and effective nonprofit organizations.
Board Training
An effective and sustainable organization requires a governing board that understands its responsibilities, is mission driven and strategic and is competently staffed. The CDE team is available to provide workshops and develop programs for nonprofit boards and their staff.  

Additional board training resources are available as a complement to the workshops:
Examples of Workshop Topics
Governance & Legal Responsibilities
Effective Meetings
Conflict Resolution
Communication
Ethics
Decision Making (including parliamentary procedure)
Fiscal Responsibility
Board Building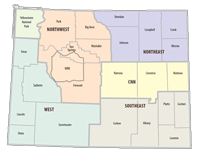 Contact your area educator about developing programs to address your specific needs.