Community Development Education
University of Wyoming Extension
Programs & Services:
Organizational Leadership Skill Development
Much of what makes Wyoming's communities desirable and sustainable is done within the private and public organizations within its communities. Organizational Leadership skills, which are also known as process skills, are critical components of effective leadership. Workshops to improve community leadership capabilities are offered to organizations and groups on a variety of topics.
Examples of Workshop Topics
Decision Making
Parliamentary Procedure
Social Action Process
Effective Meetings
Organization and Project Planning
Financial Oversight
Strategic Planning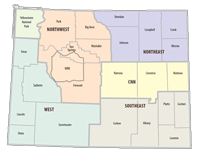 Contact your area educator about developing programs to address your specific needs.