Laramie Research and Extension Center
Agricultural Experiment Station
Research Greenhouses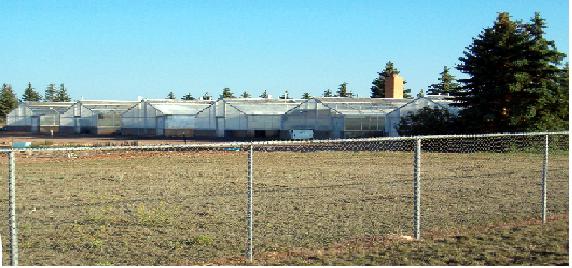 The College of Agriculture and Natural Resources, Laramie R&E Center Research Greenhouse Complex was built in 1973 and is located at 962 North 30th Street (SW Corner of 30th and Harney Street). The 20,000 square foot headhouse facility contains ten research laboratories, classroom, office, specialized processing, and supply areas.

There are 6 greenhouse ranges housing 18 greenhouse sections amounting to 11,000 square feet of greenhouse space attached to the facility and surrounded by 3 acres of microplot field space. Departmental Research activities include the fields of Agroecology, Crop Science, Entomology, Plant Pathology, Soil Science, Weed Science, and Extension.

University, Federal, State and Interdepartmental Cooperative research is conducted by faculty, staff, and graduate students, with support for undergraduate teaching programs.
Greenhouse Staff
Vacant, Operations Coordinator
Policy Manual
Facility Researchers
Plant Sciences
Academic Professionals
Ecological Science and Management (formerly Renewable Resources)
Molecular Biology
Greenhouse Activities of Interest
Agroecology - Work with Purshia tridentate (antelope bitterbrush), Coleogyne ramossissima (blackbrush), Cerococarpus ledifolius (curleaf mountain mahogany), and Fedlera rupicola (Fendlerbush).
Plant Pathology - Conducting research on the epidemiology and management of field crop diseases and their proper diagnosis. Efforts also address the development of safer and more effective crop protection chemicals.
Weed Science - Native grass herbicide tolerance, Canada thistle ecotype study, Impacts of integrated biocontrol and herbicide treatments on Canada thistle and Dalmation toadflax root and shoot dynamics, Cheatgrass common garden study.
The greenhouse facility offers part-time winter employment and full-time summer employment for students. A hands on learning experience in agriculture to enhance student work experience in applied and research ag. Click Here if you would like to rent space at the Greenhouse