Faculty and Staff
Ryan Rausch
Ryan Rausch is an Assistive Technology Professional at the Wyoming Institute for Disabilities. In this position he oversees duties related to the Assistive Technology Act, which includes providing device demonstrations, managing the device loan library, training and technical assistance, fostering collaboration with device reuse entities, and educating on alternative financing.
Ryan received his Masters of Occupational Therapy from Colorado State University. He believes, "As an Occupational Therapist, my goal is to help people get back to doing the things they need and want to do in their everyday lives across the lifespan." He has worked for the Colorado State University's Assistive Technology Resource Center as a graduate assistant and for Albany County School District #1 as an Occupational Therapist.
Ryan loves making music, reading sci-fi thrillers and backcountry snowboarding.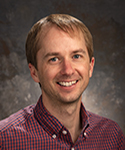 Ryan Rausch

HS 151A
(307) 766-6187 | rrausch@uwyo.edu