Device demonstrations are available to people with disabilities and their families, as well as anyone who might be interested in how these devices work, including providers of education, health and related services. Device demonstrations will help:
Increase understanding of the types of devices that can help with specific needs, such as talking on the telephone or reading mail

Improve knowledge of a device's features, and how those features differ from other devices that perform similar functions

Increase understanding of how device(s) can help at work, in school, at home and in your community
You can schedule an appointment with the WATR team to test devices. WATR staff are available both in person as well as through an on-line connection using videoconferencing technology.
Contact WATR Staff: 307-766-6187 or watr@uwyo.edu
Open Lab is on Wednesdays
and Thursdays
from 2 - 4 p.m.
Located in the WATR Lab, Health Sciences Building, Room 151 (at the intersection of 9th and Clark Streets, across from Turtle Rock Cafe) PARK IN HS LOT. You will need to register your vehicle information at the WIND Reception Desk.

By visiting Wyoming Assistive Technology Resources (WATR) Open Lab, you can learn about and have hands-on experiences with the AT offered through our short term loan program, as well as view what AT is available for sale in our reuse program.
We welcome AT users, students, instructors, community members, or anyone who wants to learn more about AT and resources.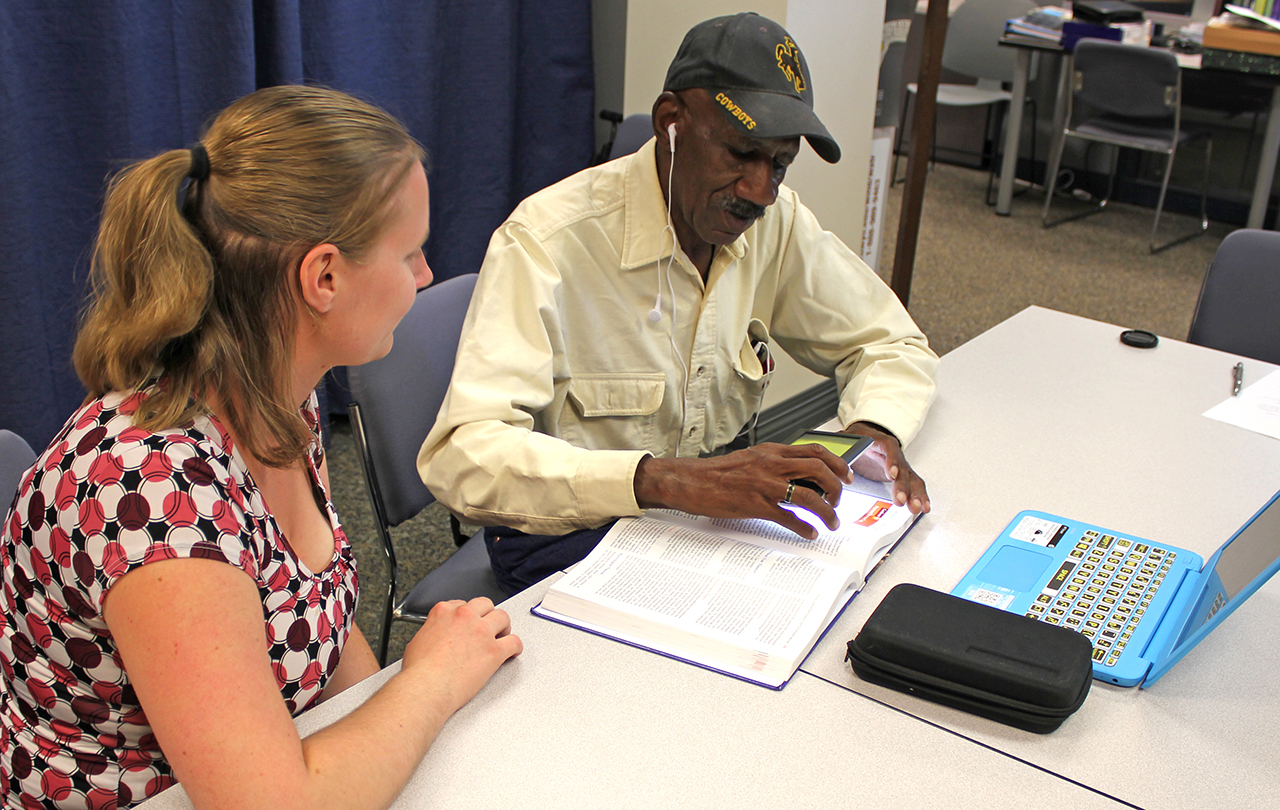 Open Lab is online for easy statewide access to WATR resources!
Join Open Lab anytime between 2 and 4 p.m. on Wednesdays and Thursdays, in person by appointment or through video conferencing technology. You can connect via Zoom from your PC, Mac, iOS, or Android. Link to join: https://bit.ly/watr-open-lab 
If you are a first-time Zoom user, please visit their support page and to learn how to navigate Zoom: Joining a Zoom Webinar
Also, you may be interested in Zoom Hot Keys and Keyboard Shortcuts.
Weekly Up-To-Date Schedule
Open Lab features different devices or themes each week. However, WATR staff are available to demonstrate all devices in the WATR lab, including those related to your particular need. 
September 22 & 23: Resources for AT Assessments – Join Open Lab this week to learn about resources that can help with assistive technology assessments. Also consider joining ECHO in AT on Thursday, September 23 @ 11 a.m. and meet OCALI (Ohio Center for Autism and Low Incidence) Jan Rogers, Program Director and Heather Bridgman, AT Consultant.
September 29 & 30: Built-in Accessibility Features: Learn about the various built-in accessibility features on your device that are extensions to its operating system. These features affect the behavior of the system regardless of which applications are running, such as text-to-speech, color contrasts, or a magnifier.
October 6 & 7: WATR Tiered Assessments – Chat with WATR staff about our tiered approach to AT or AAC assessments in Wyoming. Consider joining ECHO in AT on Thurs. Oct. 7 @ 11 a.m. on Wyoming Rules About Assessment and Evaluation and Consideration with Stephanie Weaver from Pingora Consulting and Gayl Bowser, Independent Consultant.
October 13 & 14: Adaptive Computer Devices – Check out our new RollerMouse Red Wireless Ergonomic Mouse, or the 3D Rudder Foot Mouse, as well as other adaptive computer devices available for short-term loan.
October 20 & 21: Assessment Tools – Learn about assessment tools available through WATR, such as the Sensory 2 Profile Kit, Test of Aided Communication Symbol Performance (TASP), or the AAC Evaluation Genie app. Consider joining ECHO in AT on Thurs. Oct. 21 @ 11 a.m. for Case Study of an Assistive Technology Assessment presented by Ryan Rausch, MOT, OTR/L, ATP and Terri Wofford, M.S. CCC-SLP.
October 27 & 28: Adaptive Equipment for Children with Special Needs – WATR offers different types of adaptive children's equipment available for short-term loan, such as the Crawligator, encourages babies to crawl by improving gross motor skills, or the Ladybug Corner Chair with Headrest which facilitates upright sitting and head control.