Home Page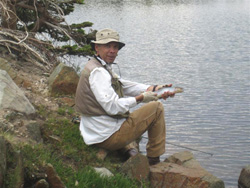 Eric enjoys flyfishing the high-country lakes of Wyoming in summer.
Eric has taught journalism classes in the department since 1990. Before coming to the University of Wyoming, he worked at daily newspapers in Montana. He spent 11 years at the Bozeman Daily Chronicle, which was named one of the two best small dailies in the nation at the time by Columbia Journalism Review. Among the stories he covered were the 1988 Yellowstone National Park fires. He has never considered himself a journalist, but prefers the title of "newspaper guy."
When he came to UW, he managed the Medicine Bow Post weekly newspaper for five years. Then he developed the Laramie News Service in 1995 and a new class, Online Publishing, in 2000 (redesigned as Online Journalism in 2007). He also began a new course in News Editing in 2002 and another new class, Community Journalism, in 2006. He has never considered himself a teacher, but refers to himself as "a guide."