William A. Reiners
Professor Emeritus
Specialization: Ecosystem Ecology
Office: Aven Nelson, 130
Phone: 307-766-2235
E-mail: reiners@uwyo.edu
Dr. Reiners is no longer taking on Graduate Students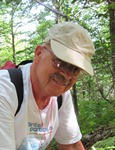 Education
B.A. Knox College, Galesburg, Illinois, 1959
M.S. Rutgers University, New Brunswick, NJ, 1962
Ph.D. Rutgers University, New Brunswick, NJ, 1964
   Advisor Prof. Murray F. Buell 
Courses
Field Ecology (LIFE 3410)
Writing in Biological Sciences (BOT 4100)
Special Topics in Ecology (BOT 5790
Research Emphasis
Biogeochemistry
Ecosystem dynamics in space and time
Philosophical issues in ecology
Current Research Projects
Successional development of a clear-cut watershed (Hubbard Brook, NH) over the last 31 years.
Ecology of the Laramie Basin
Survey of personal and professional positions of ecologists on values and objectivity
Selected Publications
Ogle, S. M., D.S. Ojima and W. A. Reiners. 2004. Modeling the impact of exotic annual brome grasses on soil organic carbon storage in a northern mixed grass prairie. Biological Invasions 6: 365-377.
Driese, K.L., W.A. Reiners, G.M. Lovett and S.M. Simkin. 2004. A vegetation map for the Catskill Park, NY, derived from multitemporal Landsat imagery and GIS data. Northeast Naturalist 11(4):4421-4442. 
Reiners, W.A. and K.L. Driese. 2004. Transport processes in nature. Propagation of ecological influences through environmental space.  Cambridge University Press, Cambridge, UK. 302 p.
Reiners, W.A. 2005. Reciprocal cause and effect between environmental heterogeneity and transport processes.  pp. 67-89, In Lovett, G. M., C.G. Jones, M.G. Turner and K.C. Weathers. Ecosystem function in heterogeneous landscapes. Springer-Verlag, NY.
Hiemstra, C.A., G.E. Liston and W.A. Reiners. 2006. Observing, modeling and validating model snow redistribution by wind in a Wyoming upper treeline landscape. Ecological Modelling 197:35-51.
Laursen, S. C., W. A. Reiners, R. D. Kelly, and K. G. Gerow.  2007.  Pollen dispersal by Artemisia tridentata (Asteraceae).  International Journal of Biometeorology 51(6): 465-481.
Prager, S.D. and W.A. Reiners. 2008. Topology. Historical and emerging practices in ecological topology. Ecological Complexity 6:160-171.
Reiners, W.A. and J.A. Lockwood. 2009. Philosophical foundations for the practices of ecology. Cambridge University Press, Cambridge, UK.