Welcome to Handshake
---
Internship Credit Application, Now Made Simpler With
Learn more about this new process here.
---
What is Handshake?
"
Handshake
 is the place where students, career centers, and recruiters come to meet, talk, and share opportunities."     
Handshake is a unique networking platform designed to provide equal opportunity to higher education students and recent alumni, regardless of where you come from.

---
Student and Recent Alumni Resources
Personalized Profile: Basically a visual resume where you get to brag about yourself and show off your accomplishments.
Internship and Career Opportunities: These are updated frequently and come both tailored for UW Students/Alumni or come offered all throughout the US.
Review and Learn About Employers: Find out if an employer alligns with your values.
Career Fairs and Events: Handshake serves as a registration platform for various events featured on and off campus.
Schedule Appointments at the Johnson Career Center: Come in for career and professional profile building.
Employer Resources
Reach More Than 500 Campuses Nationwide: Handshake is rapidly growing across the US and provides a large pool of eager, qualified students.
Tailor Your Posted Jobs: Provide specific details on what and who you are looking for when posting jobs.
Build Your Image: Strengthen your credibility by providing great experiences to students and in turn earning great reviews campus to campus.
Participate in Career Fairs and Events: Connect with University Career Centers in Handshake to get you name out on campus.
Download The App!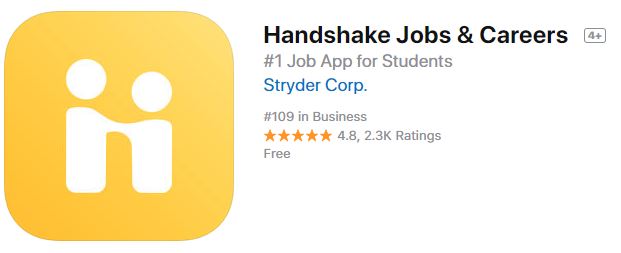 Features
Discover jobs from collections made for you.
Favorite jobs and apply later. 
Explore thousands of jobs available to you.
Apply to jobs in two taps with Quick Apply.
Connect with employers and meet your potential.