Meet Our Residents
Family Medicine Residency Program - Cheyenne
Chris Rider, M.D.
PGY I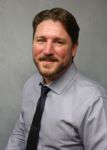 Dr. Rider grew up in Bothell, Washington and attended Central Washington University where he
received his undergraduate degree in Biology. He then returned to the Seattle area where he
worked as an anesthesia technician at various local hospitals. His time in the surgical suites
fostered an appreciation for procedural medicine and a desire for continuity of care, while life
in Seattle reminded him of his love for rural areas and wide open spaces. He received his M.D.
from Ross University School of Medicine and is thrilled to be practicing full-spectrum family
medicine in Cheyenne. He looks forward to building long-term relationships with patients of
all ages and giving back to the rural communities he loves. Outside of medicine, Dr. Rider
enjoys spending time with his wife, who is always planning their next adventure together and
numerous hobbies as an outdoorsman.