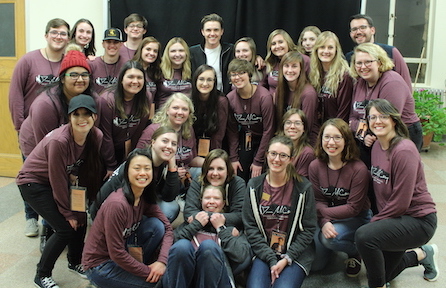 What We Do:
7220 Entertainment is an organization composed of five different committees that are responsible for bringing amazing events to the University of Wyoming Campus. 7220 Entertainment first picks the artists, acts, and events that they would like to bring to the UW Campus. The organization then plans the logistics of the event to provide the best experience possible to all attendees. With the help of a marketing team, 7220 Entertainment works to promote the upcoming event to students and the Laramie community. Lastly, 7220 Entertainment produces the event and performs all the necessary day of show functions.
Mission:
The mission of 7220 Entertainment is to function as the student fee-funded entertainment programming organization for students at the University of Wyoming. Through its five programming committees, members of 7220 Entertainment select, plan, promote and present a variety of popular entertainment programs and films that enhance the social and cultural life of the students of the University of Wyoming.
Purpose:
The purpose of 7220 Entertainment shall be to provide cost-effective, diverse events that entertain and educate students, faculty/staff, the University and Laramie communities. 7220 Entertainment strives to enrich the co-curricular experience for students through leadership and involvement opportunities with the organization and in the production of events. 7220 Entertainment contributes to student satisfaction and retention by creating a dynamic, lively campus social environment.
Values:
The core values of 7220 Entertainment are as follows:
Teamwork: To provide an environment that fosters the development of teamwork skills that will promote success during the student's college experience and in the post-graduation workforce. Members of 7220 Entertainment will gain valuable experience working with students, faculty, and staff of varying backgrounds and will enhance their skills in practical, hands-on situations.
Stewardship: To efficiently and effectively manage all financial affairs, give back to the student body, promote leadership, preserve integrity and be accountable.
Cultural Enrichment and Diversity: To expose the University of Wyoming and Laramie communities to new ideas and cultures by providing access to a diverse range of entertainment and learning opportunities.
Read 7220 Entertainment's Policies & Operating Procedures.