Grasshoppers of Wyoming and the West
Entomology
Trachyrhachys aspera (Scudder)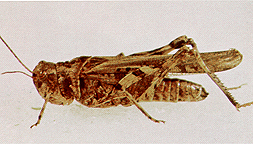 Adult female
Common name - Finned grasshopper.
Geographic distribution - from Pine Bluffs, Wyo., south through Colorado to the Sacramento Mountains in New Mexico, the Davis Mountains of Trans Pecos, Texas, and the Chinati Mountains (Tinkham, 1948). In Colorado it is found from the eastern plains to the eastern mountain valleys (Hebard, 1929).
Habitat - lives in meadows and other grassy areas (Tinkham 1948).
Food habits - preferred food is blue grama but also has been seen feeding on sand dropseed (Joern,1979a; Kumar et al., 1976).
Adult - medium size; robust. Color is dark gray-brown. Face is vertical. Vertex is rounded. Antennae are slender. Head is rather large. Dorsal posterior margin of pronotum is a right angle. Posterior angle of lateral lobe of pronotum usually is a right angle. Median carina of pronotum is cut deeply by two sulci. Tegmina have two or three indistinct bands and a short longitudinal row of tiny spots that get smaller toward the apex. Wing disc is pale yellow; wing band is grey to black; apex usually is clear. Overall body is roughly textured. Hind femora have high fins, the upper one suddenly decreasing near the middle. Hind tibiae usually are blue, pale or brown basally. Male length, 15 mm; female, 25 mm (Ball et al., 1942; Tinkham, 1948).
 
| | |
| --- | --- |
| | |
| Pronotum (Side view) | Tegmen |
Seasonal history - adults are present from mid-August through October (Van Horn, 1972).
Abundance and importance - may be locally abundant in northern Colorado.
Next Species: Trachyrhachys kiowa
Previous Species: Spharagemon equale
Biology of Common Colorado Grasshoppers List
Biology of Common Colorado Grasshoppers
Grasshoppers of Colorado Contents