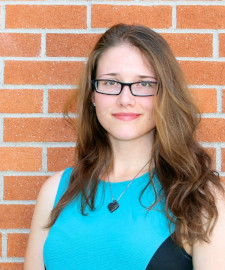 Economic Geology: hydrothermal systems
Office: ESB 3010  
Phone: (307) 314-9262
Email: srunyon@uwyo.edu
Geology & Geophysics
Dept. 3006, University of Wyoming
Laramie, WY 82071
Education
BSc in Geology, Illinois State University, 2011
MSc in Geosciences, University of Arizona, 2013
PhD in Geosciences, University of Arizona, 2017
Postdoctoral Research Associate, Carnegie Geophysical Laboratory, 2017-2018
Publications 
Runyon, S.E., 2021, Applications of fluid and melt inclusions to magmatic-hydrothermal ore deposits: Short Course Proceedings, Mineralogical Association of Canada. 

Lecumberri-Sanchez, P., Luo, M., Steele-MacInnis, M., Runyon, S.E., Sublett, M., and Bodnar, R.J., 2020, Synthetic fluid inclusions XXII: Phase equilibria and microthermometric behavior of fluid inclusions trapped under vapor- and halite-saturated conditions: Geochimica et Cosmochimica Acta, v. 272, p. 78-92. 

Runyon, S.E., Seedorff, E., Barton, M.D., Steele-MacInnis, M., Lecumberri-Sanchez, P., and Mazdab, F.K., 2019, Coarse muscovite veins and alteration in porphyry systems: Ore Geology Reviews, v. 113, 32 p. 

Richardson, C.A., Favorito, D.A., Runyon, S.E., Seedorff, E., Maher, D.J., Barton, M.D., and Greig, R.E., 2019, Superimposed Laramide contraction, porphyry copper systems, and Cenozoic extension, east-central Arizona: A road log: in, Pearthree, P.A., ed., Geological Society of America Field Guide 55, p. 1-32. 
Liu, C., Runyon, S.E., Knoll, A.H., Hazen, R.T., 2019, The same and not the same: Ore geology, mineralogy, and geochemistry of Rodinia assembly versus other supercontinents, Earth Science Reviews.

Runyon, S.E., Mazdab, F.K., Lecumberri-Sanchez, P., Steele-MacInnis, M., Seedorff, E., and Dyar, D., 2019, An occurrence of phlogopite-rich alteration in the Yerington District, Nevada, Canadian Mineralogist, v. 57, p. 271-294.

Runyon, S.E., Nickerson, P.A., Seedorff, E., Barton, M.D., Mazdab, F.K., Lecumberri-Sanchez, P., and Steele-MacInnis, S., 2019, Sodic-calcic family of alteration in porphyry systems of Arizona and adjacent New Mexico, Economic Geology, v. 114, p. 745-770.

Hazen, R.M., Downs, R.T., Eleish, A., Fox, P., Gagne, O., Golden, J.J., Grew, E.S., Hummer, D.R., Hystad, G., Krivovichev, S.V., Li, C., Liu, C., Ma, X., Morrison, S.M., Pan, F., Pires, A.J., Prabhu, A., Ralph, J., Runyon, S.E., and Zhong, J., 2019, Data-driven discovery in mineralogy: Recent advances in data resources, analysis, and visualization, Engineering, Special Issue: Deep Matter & Energy.

Morrison, S.M., Runyon, S.E., and Hazen, R.T., 2018, The paleomineralogy of the Hadean Eon revisited, Life, v. 8, 20 p.
Runyon, S.E., Steele-MacInnis, M., Seedorff, E., Lecumberri-Sanchez, P., Mazdab, F.K., 2017, Coarse muscovite veins and alteration deep in the Yerington batholith, Nevada: insights into fluid exsolution in the roots of porphyry copper systems: Mineralium Deposita, v. 52, p. 463-470.
Dunn, T.L., Gross, J., Ivanova, M.A., Runyon, S.E., Bruck, A.M., 2016, Magnetite in the unequilibrated CK chondrites: Implications for metamorphism and new insights into the relationship between the CV and CK chondrites: Meteoritics and Planetary Science, v. 51, p. 1701-1720.
Runyon, S.E., Barton, M.D., Seedorff, E., Dilles, J., Ohlin, J., Carpenter, K., and Johnson, D., 2015, Iron oxide-rich mineralization and related alteration in the Yerington district, Lyon County, Nevada: New Concepts and Discoveries: Geological Society of Nevada 2015 Symposium Proceedings, Pennell, W.M., and Garside, L.J., eds., p 251-283.
Research Statement
My focus in economic geology is the study of hydrothermal systems. I undertake field-based research studies supported by laboratory measurements in order to determine detailed paragenesis, sources of transporting fluids and transported metals, and changes in fluid chemistry through the evolution of a hydrothermal system. I employ analytical techniques such as electron microprobe analysis, fluid inclusion microthermometry, and stable isotopes to better understand the paragenesis of a given system. My primary focus has been porphyry deposits and IOCG (iron oxide copper gold) systems, but I am interested in a wide variety of deposit types, including magmatic and weathering-related mineral occurrences. Beyond deposit- and district-scale studies, I am interested in the partitioning of trace elements into coeval mineral phases in different styles of hydrothermal alteration. My broader interests include geochemistry, igneous petrology, mineralogy, and planetary geology (specifically geochemistry of carbonaceous chondrites).
Teaching Statement
I have been fortunate to teach and discuss economic geology with people of varied backgrounds, from undergraduate and graduate students to industry geologists. I am dedicated to undergraduate instruction, building the foundation for future scientists and members of society. Combining field and laboratory exercises, I aim to utilize applied learning in order to better develop students' critical thinking skills. These same principles are employed in my approach to graduate courses, in which students are encouraged to apply new ideas and techniques to their own research. I plan to teach Ore Deposits, Advanced Ore Deposits, and graduate seminars that will be organized to reflect the interests of enrolled students. I am looking for enthusiastic graduate students to advise. Students looking for a graduate advisor may contact me through my email address srunyon@uwyo.edu.