Economic Geology
It is estimated that every American born will need ~3.03 million pounds of minerals, metals, and fuels in their lifetime (Minerals Education Coalition, 2018). We utilize large volumes of natural resources in our day to day lives and also more types of natural resources (e.g. lithium ion batteries, a suite of rare earth elements in smart phones and computers). Simultaneously, easily mined and easily discovered ore deposits are declining. In order to supply the required natural resources to maintain an evolving standard of living for an increasing world population, new sources of raw materials must be identified.  

 Studying how ore deposits form, including deep and distal alteration associated with hydrothermal ore deposits, helps to direct exploration in highly dismembered, highly explored regions. At Wyoming, economic geology research targets a vast array of deposit types using a broad range of techniques in order to better document deposits, associated hydrothermal alteration, element mobility in various T/P/X conditions, and evaluate potential genetic hypotheses.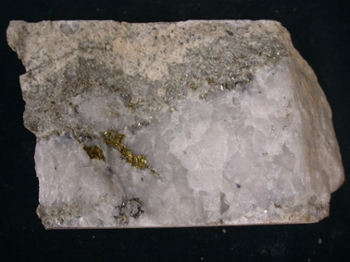 Silver-gray molybdenite and brassy chalcopyrite present
in a quartz vein with coarse muscovite envelope from a
porphyry Mo-Cu system in Arizona.
The old and the new. Stillwater mines from the 1940's and the present day
Fields of interest:
Active areas of research within Economic Geology include: deep and distal expressions of porphyry copper deposits, ore deposit trends associated with the supercontinent cycle, formation of uranium roll-front deposits, metamorphism and melting of massive sulfide ore bodies and mobility of trace and rare elements in uranium roll-front deposits.