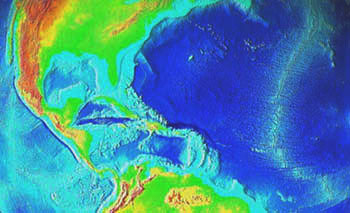 Geophysics is the application of the methods and techniques of physics in the study of the Earth. It differs from Geology in that a geologist studies rocks and structures, which can be seen, while a geophysicist uses seismic, electrical, electromagnetic, and potential fields to probe the inaccessible subsurface. The Geophysics faculty in the department is actively involved in the following research. For complete details of available research projects, please visit the individual professor's web pages.
Active source pure seismology uses both marine and onshore reflection and wide-angle seismic data to study subjects ranging from continental crustal structure and genesis, characterization of gas hydrates on the continental shelves and high resolution studies of the structure of the upper mantle.
Active source exploration seismology uses seismic reflection datasets to study the subsurface distribution and time-lapse monitoring of hydrocarbon reservoirs. In addition, this group is also actively involved in using the seismic reflection data to monitor carbon dioxide movements in carbon sequestration experiments in depleted hydrocarbon reservoirs and aquifers. The accurate imaging of subsurface seismic structure remains a grand challenge for seismologist and several of our faculty conducts theoretical and computational research in large scale global inversion, modeling, and scattering integral versus adjoint imaging techniques.
Passive source seismology uses broad-band seismic data from regional scale PASSCAL and Earthscope seismic experiments and the Global Seismic Network to image subsurface structure at a local and regional scale. In addition, earthquake source characteristics are constraining using a higher order approximation (finite moment tensor) that helps resolve fault plane ambiguity that is important to creating more accurate real-time earthquake acceleration maps.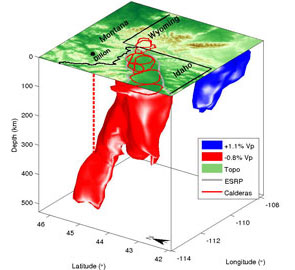 Physics of magmatic processes uses geophysics to investigate magma migration and flow, mantle plume characteristics, the origin of granites, the physical properties of two-phase systems, and fluid flow in porous media.
Ground penetrating radar (GPR) is used to image the shallow surface. Projects currently using GPR include: imaging the sedimentation history of lakes to map out Quaternary changes in climate in the western U.S., mapping glacial stratigraphy, and the depth of sand dunes that constrain basin integration.
Paleomagnetic study uses the earth's magnetic field over the geologic history and seeks to determine the motion of the plates, investigate extraterrestrial impacts on Earth, and analyze mass extinction events to help refining the geologic time-scale.