Celebrate Ruckelshaus Day
Ruckelshaus Day Tree Dedication
In July 2021 we held a small gathering in the back garden of our building on the University of Wyoming campus to dedicate a Douglas-fir to Bill Ruckelshauss. In addition to our faculty and staff, several people who were instrumental to launching the Ruckelshauss Institute and who worked closely with Bill in Wyoming and beyond shared their thoughts and remembrances. Special guests in attendance were: 
Harold Bergman, Director, Ruckelshauss Institute and Haub School of ENR, 1998-2008

Ann Boelter, Ruckelshauss Institute Research Scientist, 1995-2008

John Ehrmann, Senior Partner, Meridian Institute

William Gern, Director, Institute for Environment and Natural Resources, 1995-1998

Diana Hulme, Assistant Director, Ruckelshauss Institute, 2001-2010

Rich Innes, Senior Fellow, Meridian Institute

Michael Kern, Director, William D. Ruckelshauss Center, University of Washington and Washington State University 
Michael Kern shared this remembrance from the Ruckelshauss Center, a similar entity to ours in Washington State. And William Gern said, "If you want to see what this tree will become in 150 years, go to Vedauwoo, drive on the campground loop and right along that road is a giant 250-year-old Douglas fir. It's gorgeous. And when you drive by that, think about Bill Ruckelshauss, think about having a Douglas fir right here in Laramie, Wyoming, dedicated to this giant of a man who helped set up this institute and school, who did wonderful things for us as an institution, and did wonderful things for the world."
We intend to celebrate Ruckelshauss Day each year on July 24, Bill's birthday, going forward. Ruckelshauss Day will be a chance to both remember the founding of our institute, our original purpose and ambitions, as well as look to the future and consider how we can apply Bill's experience, foresight, and ideals to the challenges we and our students will face in the coming years and decades. Carrying forward Bill's ideals for collaborative approaches and his example of leadership with great humanity and integrity is not easy in today's world, but it is more important than ever.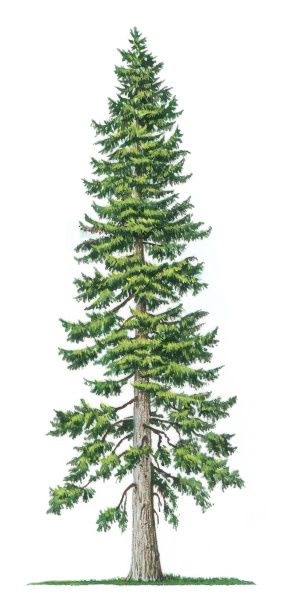 The Douglas-fir was Ruckelshaus's favorite tree. This member of the pine family grows throughout the Pacific Northwest and Rocky Mountains. We have planted one in the back garden of our building at the University of Wyoming in Ruckelshaus's memory.
---
"When concerned citizens take the time to master an issue, when they are able to conduct their deliberations outside the courts or the political fishbowl, they can learn to speak a common language and come up with creative solutions for problems that appear to be frozen in a perpetual contention between narrow interests."
Wise words from a thoughtful leader. Read Bill Ruckelshaus's whole speech  delivered at the University of Wyoming in 1997.
From Conflict to Collaboration: Restoring Trust in Government
In 2002 he delivered this speech at the University of Wyoming when the institute was named in his honor.
Remarks Upon the Naming of the William D. Ruckelshaus Institute of ENR
---
William D. Ruckelshaus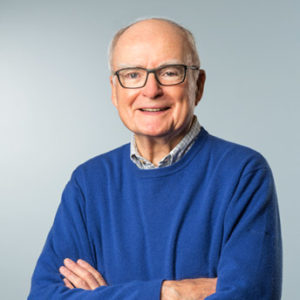 July 24, 1932 – November 27, 2019
In 1993, Senator Alan Simpson asked Browning Ferris CEO William D. Ruckelshaus to come to the University of Wyoming to discuss a new institute for environment and natural resources. Ruckelshaus had previously served as first administrator of the Environmental Protection Agency (1970-1973) under President Nixon and administered the agency again (1983-1985) under President Reagan. He was a Republican known for his unwavering integrity and steadfast commitment to advancing business interests alongside environmental protection.
Ruckelshaus had a diverse and impactful background. In addition to leader of the EPA, he'd been a lawyer, Republican representative for Indiana, acting director of the FBI, deputy attorney general fired by Nixon during the "Saturday Night Massacre" of the Watergate scandal, VP of a major timber company, and head of the Puget Sound Partnership. He brought his steady-handed approach for collaborative decision making around complex environment and natural resource challenges to Wyoming when he became the founding board chairman of the University of Wyoming's Ruckelshaus Institute. Read more about Ruckelshaus's role in Wyoming.
Bill Ruckelshaus led our board to write and adopt this mission statement in 1996:
"To advance effective decision making on environmental and natural resource issues by promoting and assisting collaborative informed approaches that sustain both the economy and the environment." 
---