LAMP Fellows Program
Summer Institute and Yearlong Training on Active Learning
The LAMP Fellows Program is an incentivized, immersive year-long faculty development opportunity sponsored by the Science Initiative's Learning Actively Mentoring Program (LAMP) designed to facilitate teachers with incorporating active learning techniques and methods into their STEM curricula. Upon completing the Science Initiative's Summer Institute, educators will be able to:
Implement active learning techniques ranging from snowball to problem-based learning.

Write a teaching philosophy that reflects their values, goals, pedagogy, and assessment.

Present student learning outcomes and realize these outcomes with instruction and assessments that promote student engagement.

Develop innovative curriculum using backwards design.
For more information on the Science Initiative Summer Institute [SI]2 and yearlong training contact LAMP Director Rachel Watson (rwatson@uwyo.edu).
All UW faculty, UW PhD students, and Wyoming Community College faculty in STEM fields are welcome to apply.
2023-2024 LAMP Summer Institute and Yearlong Training Applications have closed. Please contact Rachel Watson if you have need to submit a late application.
---
Each semester, we feature a LAMP educator who is working to integrate active learning practices into their STEM teaching. Our Fall 2022 Featured Lamp Fellow is Dr. Diksha Shukla!
---
Why should you be a part of the LAMP Summer Institute?  See below (and click the image for a full-size PDF).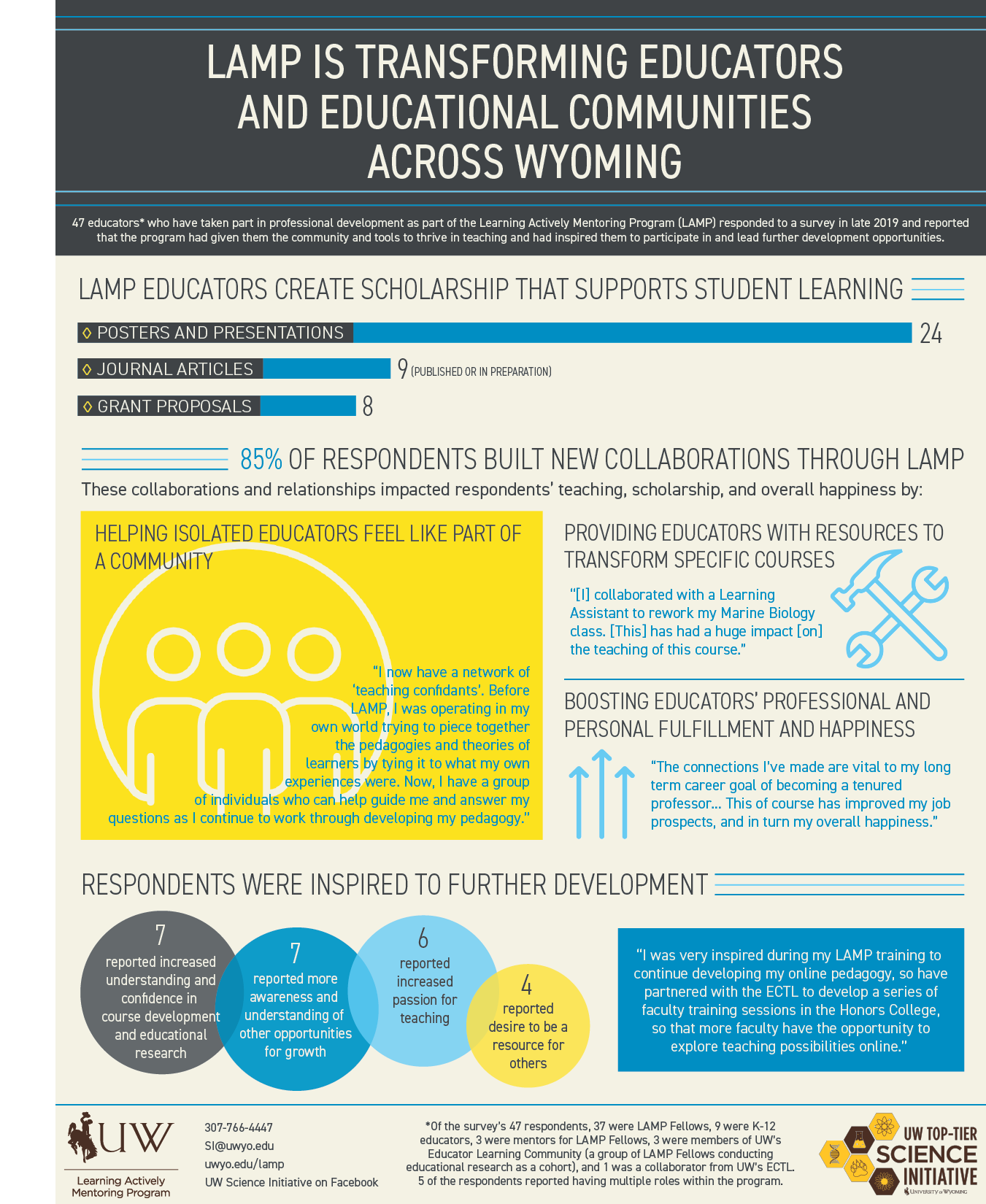 ---
The Impact of LAMP Fellows
LAMP Fellows receive intensive, year-long training in active learning. They develop instructional strategies that are implemented in their classrooms, assess the impacts on student learning and develop a teaching philosophy statement. The Fellows program has had a large impact on instructors, courses and students at the University of Wyoming and at five of the Wyoming Community Colleges. Visualizations of these impacts can be seen on the
Science Intitiative's main webpage
.
---
2021-2022 LAMP Summer Institute and Yearlong Training
                  Thirty-two faculty and graduate student fellows were selected to be fellows in the 2021-2022 LAMP class. Throughout the spring 2021 semester, fellows became familiar with the LAMP Active Learning Spectrum. They attended Friday Coffee & Curriculum sessions, during which prior LAMP Fellows shared about their active learning strategies, assessments and holistic stories. Many of these Coffee & Curriculum sessions are now embedded on the Active Learning Spectrum. Also on Fridays, LAMP fellows were invited to optional discussions. In these sessions, they shared about their learning, discussed blog posts written by prior LAMP fellows, became familiar with techniques of collaborative communication and began to workshop their teaching philosophy statements. These statements, which are submitted as a part of the LAMP application, evolve throughout the fellows yearlong learning journey.
                        At the end of February, the LAMP fellows made a decision as to whether they would be participants in the in-person Summer Institute or the online Summer Institute. The in-person institute was held from May 24-28 at the Table in the Wilderness Recreation Camp outside of Centennial Wyoming.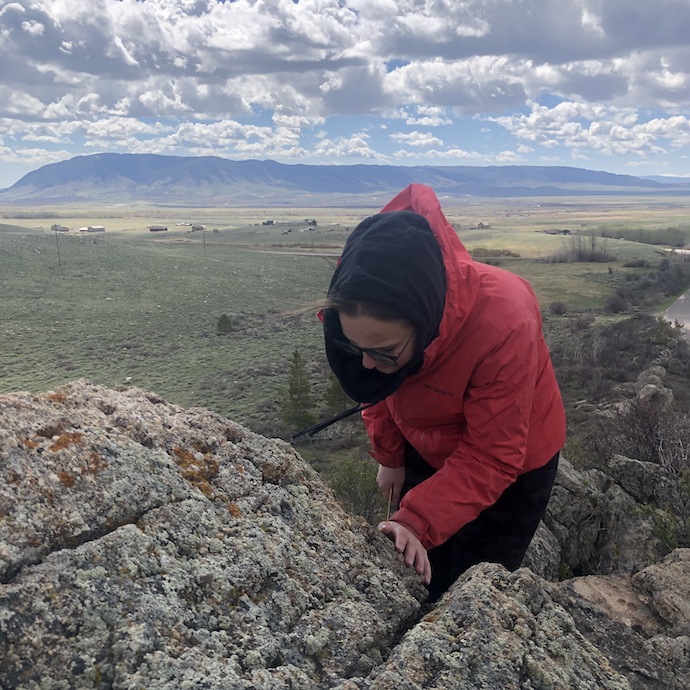 The online institute was experienced from locations around the world, from Wyoming to Pennsylvania and all the way to Germany. In both institutes, fellows were immersed in Place-based Education (PBE) centering on lichens. Throughout the remainder of the Summer Institute, fellows were students of Experiential Learning, Problem-based Learning (PBL) and they practiced Backwards Course Design and implementation of inclusive pedagogies (including Universal Design for Learning).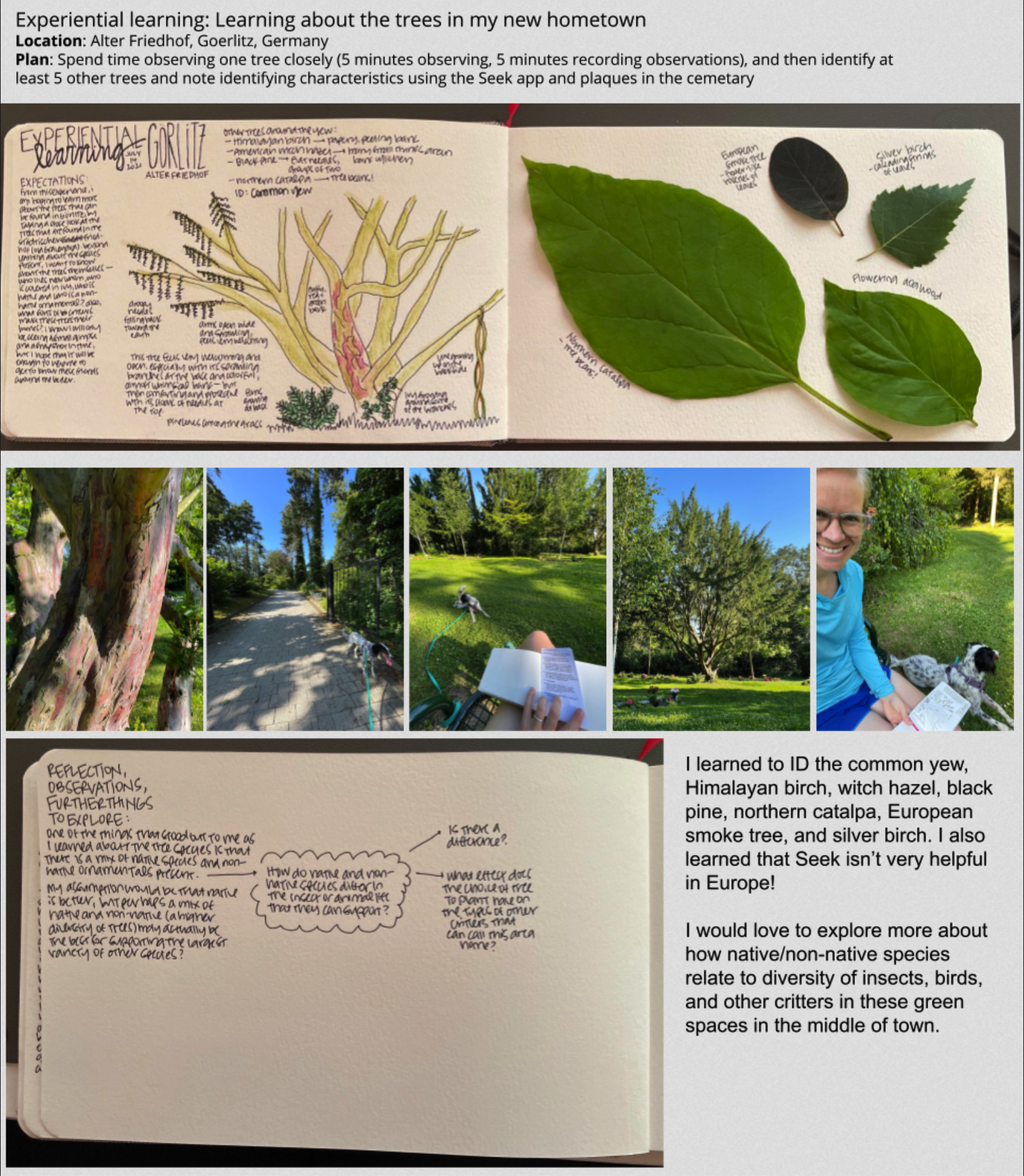 During the final two days of the Institute, each fellow synthesized an instructional strategy and presented a poster detailing that strategy. They will implement these approaches in their fall and spring courses.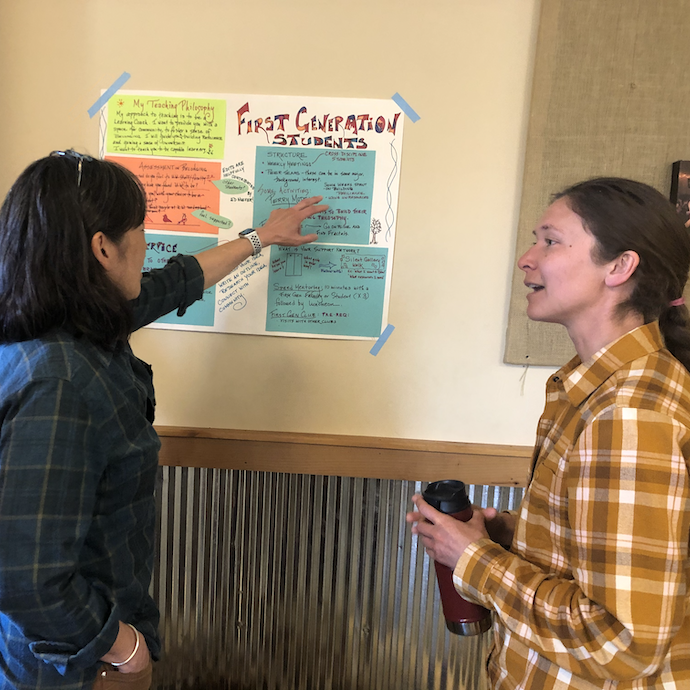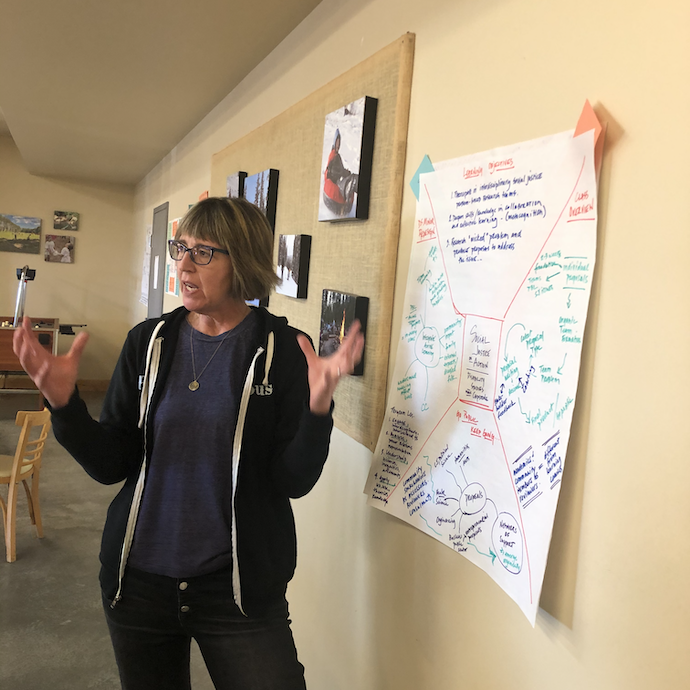 2021-2022 LAMP Graduate Student and Faculty Fellows
Corrie Knapp (UW Haub School)
Eric Atkinson (Northwest College Biology)
Erin Bush (UW Communications Disorders)
Umesh Silwal (UW Astronomy)
Katelyn Kotlarek (UW Communications Disorders)
Tarissa Spoonhunter (Central Wyoming College)
Barry Smith (Casper College Chemistry)
Kim Frith (UW Architectural Engineering)
Vicky Mayfield (Eastern Wyoming College Math)
Christopher Weiss-Lehman (UW Botanay)
Meredith Minear (UW Psychology)
Annie Bergman (UW INBRE)
Leticia Henderson (UW Applied Economics)
Simon Garcia (Kenyon College Chemistry)
Michelle Jarman (UW Disability Studies)
Laura de Sousa Oliveira (UW Chemistry)
Noah Decker (Eastern Wyoming College Biology)
Nervana Elkhadragy (UW Pharmacy)
Di Yang (UW WyGISC)
Nga Nguyen (UW Computer Science)
Diksha Shukla (UW Computer Science)
Ellen Keaveny (UW Physiology)
Jessica Rick (UW Botany)
Nathan Magno (UW Physics and Astronomy)
Sarah Waybright (UW Program in Ecology)
Gordon Custer (UW Botany)
Jimena Golcher-Benavides (UW Program in Ecology)
Chelsea Duball (UW Ecosystem Science and Management)
Macy Ricketts (UW Botany)
Brett Ralston (UW Zoology and Physiology)
Claire Campion (UW Zoology and Physiology)
Rhiannon Jakopak (UW Zoology and Physiology)
Quotes from LAMP Fellows

Discovering the LAMP community has reminded me of the inspiring human network found at University of Wyoming, and reminded me as well that I am still part of it wherever I am. This workshop has gone way beyond knowledge transfer, it has made me aware of my own core values as well as privileges, humbled me by exposing me to amazing things my peers, mentors and program founders value and have accomplished, and in general made me more confident about my choice to become a teacher/instructor.


I have learned more on making my teaching and learning goals more transparent and accessible for everyone. I also hope to continue learning the actions, techniques and approaches in which I can best contribute to the removal of existing complex barriers preventing individuals from accessing the benefits of education.
Previous Summer Institutes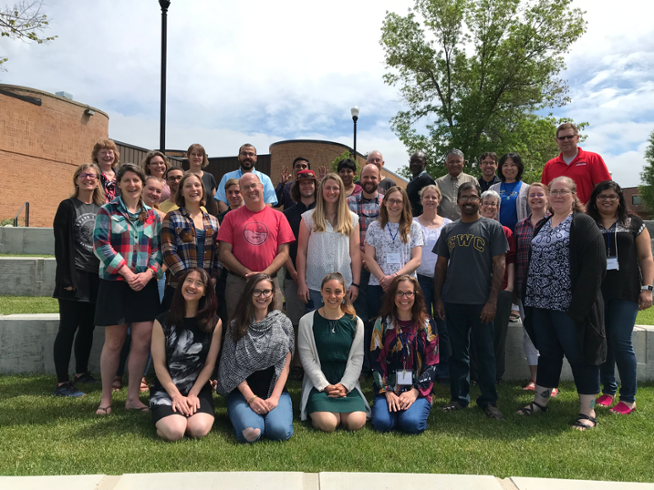 June 13, 2019 – Twenty-three educators from the University of Wyoming and three Wyoming community colleges completed intensive active learning training last week at Sheridan College. This Summer Institute is the kick-off event for a yearlong, immersive program facilitated by the Learning Actively Mentoring Program (LAMP), one of the Science Initiative's signature programs.
The theme for the Summer Institute was Transformative Learning and educators engaged in mock active learning sessions so that they could experience Team-based Learning (TBL) and other forms of active learning in an authentic way. On the final evaluation, one educator commented, " Everything that was talked about was also demonstrated. It would have been one thing to tell us about team based learning, but you showed us how by getting us involved in an actual TBL activity."
Amongst the group of 23 educators were 16 instructors from four University of Wyoming Colleges: Arts & Sciences, Health Sciences, Agriculture and Natural Resources and Engineering. These participants were joined by six community college colleagues from LCCC, NWC and Sheridan College.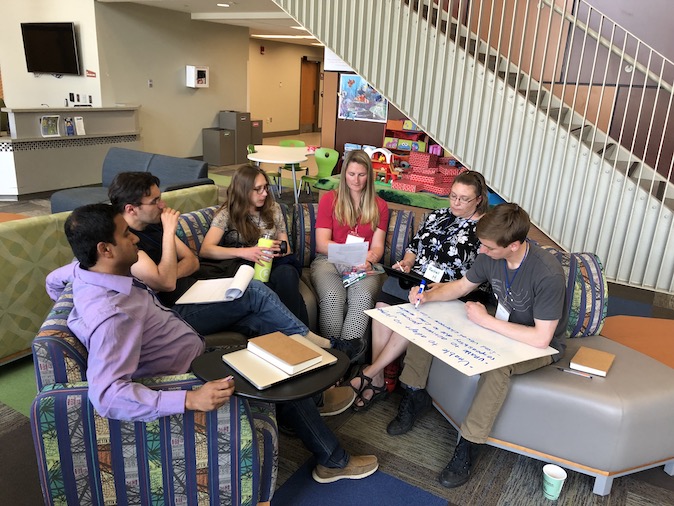 In addition to learning effective ways to implement active learning into their classes, Summer Institute participants also learned about the scholarship of teaching and learning (SoTL) which is the practice of systematically studying the effectiveness of active learning strategies implemented in classrooms. On the final anonymous survey, one participant commented:
       ... I have to say that I feel really energized and ready to rock teaching next semester. My engagement with and sense that I've benefited from this seminar is several times higher than the best seminar I've attended in the past. I'm SOLD on SoTL; I feel like I've found a home I've been looking for. Yes, this sounds super enthusiastic (and therefore suspicious). But, I'm feeling it for realz.
       Thank you. I cannot thank you enough. You all created a space that made it safe and possible for me to go through this big personal transition re. teacherly excitement.
LAMP director Rachel Watson commented, "Transformative learning is defined as changing the very essence of what we know. It is important that we facilitate transformative learning for our state-wide educators because changing from traditional passive (lecture) methods to evidence-based, active learning practices requires a fundamental change in how we teach. In order to facilitate transformative learning for educators and encourage them to seek this for their students as well, we engaged them in reflective dialogue every day. This is an essential element of deeply internalizing the learning that we have done."
On the parting comment section of the evaluation, one participant offered, " Thank you, Rachel and everyone else for creating a transformative week!"
External and internal mentors facilitated the reflective dialogue and offered subject-matter expertise. External mentors were Ferlin McGaskey, assistant Director of the University of Tennessee (UT) Teaching and Learning Center, and Lisa Murray, Marketing Assistant Department Head at the UT Haslam College of Business, and Ed Nuhfer, (retired geologist and educational developer, expert in metacognition). Internal mentors included Janel Seeley, Christi Boggs and Thomas Stoudt (Ellbogen Center for Teaching and Learning), Michele Larson (Life Science Program faculty), Monia Haselhorst (NWC Biology Program faculty), Sridhar Budhi (EWC Chemistry Program faculty) and Jessica Sutter (Physics and Astronomy Graduate Student Mentor).
"Sheridan College was an excellent venue to host our annual Summer Institute. The facilities are cutting edge and our collaborator Debi Isakson is a consummate organizer. We are grateful to have had the opportunity to spend time in Sheridan," said Watson.
2019-2020 Faculty and Graduate Student Fellows
Rob Milne (Sheridan College Chemistry Program)

Tim Glatzer (NWC Math Program)

Deepthi Amarasuriya (NWC Physics Program)

Lorilyn Beck (NWC First Year Experience)

Rachel Hanan (NWC Science Literature)

Qing Du (LCCC Chemistry Program)

Reshmi Singh (UW Pharmaceutical Sciences/Pharmacy)

Jerod Merkle (UW Department of Zoology and Physiology)

Ellen Aikens (UW Department of Zoology and Physiology)

Becky Wilcox (UW Department of Zoology and Physiology and Program in Ecology)

Linda Van Diepen (UW Department of Ecosystem Science and Management)

Anna Schwyter (UW Ecosystem Science Management)

---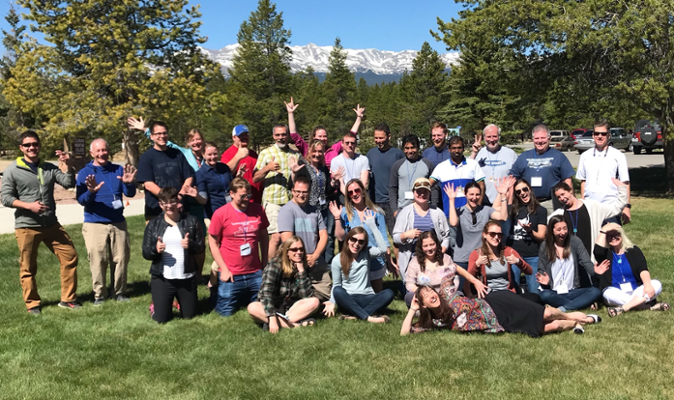 Participants in LAMP's 2018-2019 Science Initiative Summer Institute (as well as the mentor's supporting their learning) are pictured above. Participants are listed below.
On the week of June 4th - 9th, 2018, twenty-five educators from the University of Wyoming, Northwest College, Sheridan College and Laramie County Community College attended a summer institute during which they received intensive training in active learning. In-depth training on Team-based Learning and Problem-based learning accompanied holistic training on all forms of hands-on, minds-on pedagogy.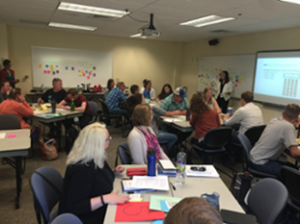 The weeklong retreat, called LAMP's Science Initiative Summer Institute (or dubbed LAMP Camp by participants) took place in Leadville, Colorado. Above, LAMP participants engage in Team-based Learning (TBL) with mentor Julie Estis of the Team-based Learning Collaborative (http://www.uwyo.edu/science-initiative/lamp/summer-institute.html )
Fellows rate the overall experience as 4.75 on a 5 point scale and they say:
"I can't imagine it being a more positive, energizing, productive experience. This is just what we need--hands across campus, working as a tribe to make learning more active and also more interdisciplinary."
"The way everything was presented in modeling style and the time to collaborate was the key.  Best PD I have done EVER, I am walking away ready to implement and feeling supported."
I had no idea about implementing active learning prior to the program. It was fantastic to learn from diverse mentors with various expertise.
"The level of introspection the content and methodology invoked was unmatched"
"Everything about LAMP was great. It was a wonderful networking opportunity and it was run by caring, competent staff who did an amazing job of leading activities about the techniques rather than just talking about the techniques."
Fellows say they most appreciated: 
"That there is not one correct way to teach. The Summer Institute was designed to show us many different techniques and ideas and let us take what works for us, what feels true to ourselves. I really appreciated this was someone who can't make a huge change to the course, as a TA I can only change what I do." 
"The collaboration between the organizers and the mentors, as well as the guest speakers, was truly inspirational. There is so much passion around active learning in this group, that it's a pleasure to be part of this mission."
"It is a very thoughtful program that creates a strong bond with its members. While it was intense, it was incredibly thought provoking and informative."
"Productive retreat in a beautiful environment."
---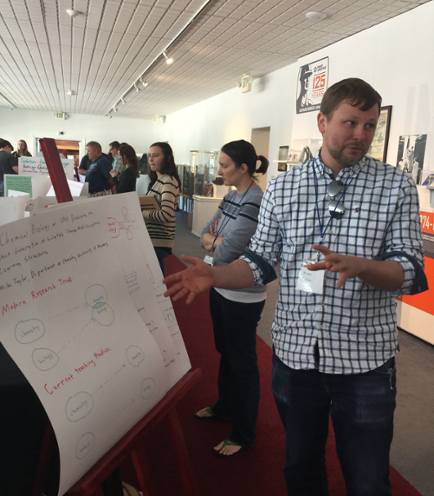 Michael Taylor (professor in the Department of Chemistry at the University of Wyoming) presents his instructional strategy. All participants will design or redesign curriculum based upon their learning at the Summer Institute.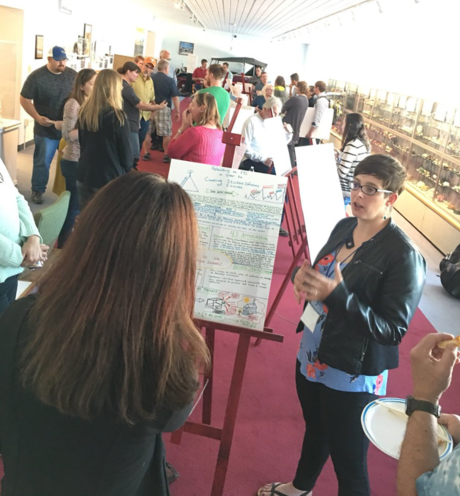 LAMP Summer Institute Participants present their instructional strategy at the Historic Mining Hall of Fame. Ann Stebner Steele of the Honors Program is pictured at right        
2018-2019 Faculty and Graduate Student Fellows
Michael Cuddy (NWC Chemistry)

Mathew Osborne (NWC Biology)

Kerrie Spinney (NWC Mathematics)

Matthew Craig (Sheridan College Biology)

Stephanie Fielder (LCCC Chemistry)

Matthew Morrison (LCCC Agriculture)

Kira Heater (LCCC Mathematics)

Rosemary McBride (LCCC Agroecology/Natural Resource Economics)

Bruce Nisley (LCCC) Agriculture

Gerard Andrews (UW Microbiology)

Riley Jordan (UW Physics & Astronomy)

Dylan Kloster (UW Physics & Astronomy)

Amy Cavanaugh (UW Physics & Astronomy)
David Kasper (UW Physics & Astronomy)

Ali Baas (UW Science Education & Albany County School)

Lori Howe (UW Honors Program)

Mary Katherine Scott (UW Honors Program)

Anne Stebner Steele (UW Honors Program)

Amy Navratil (UW Zoology & Physiology)

Karagh Brummond (UW Zoology & Physiology)

Libby Megna (UW Zoology & Physiology, Program in Ecology)

George Noah (UW Aerospace Studies)

Samuel Shearer (UW Aerospace Studies)

Katie Wagner (UW Botany)

Michael Taylor (UW Chemistry)
Poster Presentations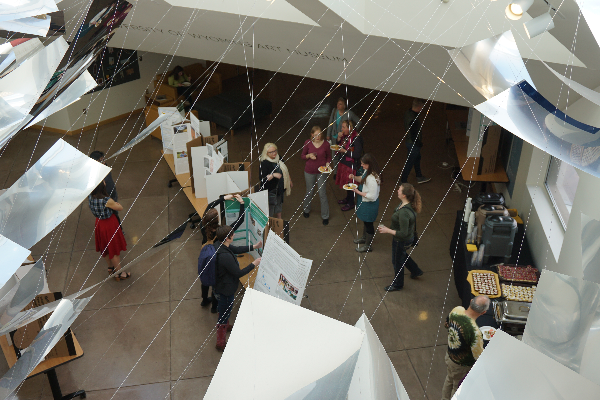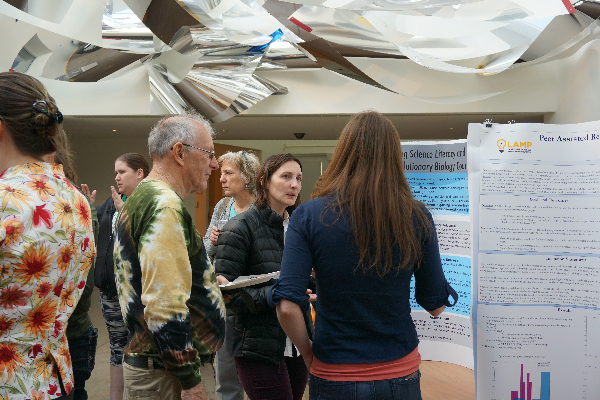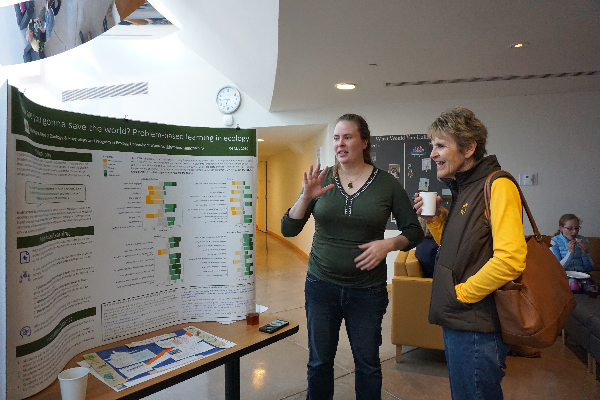 ---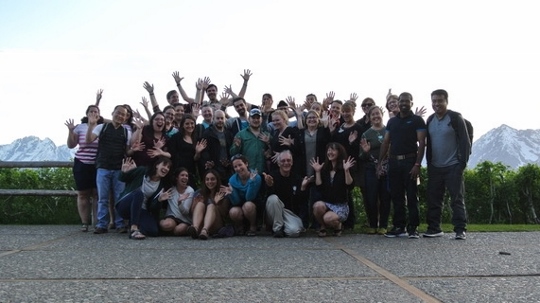 The 2nd annual Science Initiative Summer Institute was held during the first week of June, 2017 at the UW-NPS AMK Research Center in the Grand Teton National Park. The beautiful setting promoted focus, collaboration and reflection. Feedback from attending fellows:
"It is a whole new world about how to teach and make an impact in student lives."
"This is one of the first times in the last decade that I have truly felt like I grew as an individual and as a teacher.....I found it to truly be amazing and a time of renewal for me as faculty and my approach to my classroom. " (CC administrator)
"We wish to participate every year."

2017-2018 Faculty and Graduate Student Fellows
Sridhar Budhi (Chemistry at EWCC)

Ali Darzi (Electrical Engineering)

Kristin Di Bona (Molecular Biology)

Reilly Dibner (Environment and Natural Resources)

Mariah Ehmke (Agricultural & Applied Economics)

Derek Hand (Physics & Astronomy)

Caleb Hill (Chemistry)

Lynne Ipina (Mathematics)

Dinesh Kasti (Mathematics and Statistics at EWCC)

Trina Kilty (Secondary Science Education)

Marina Lazic (Molecular Biology)

Stephanie Mapes (Physics & Astronomy)
Amanda Patrick (Geology)

Eric Quade (Mathematics)

Amy Rhoad (Veterinary Sciences)

William Rice (Physics & Astronomy)

Lauren Schmidt (Botany)

Jacqueline Shinker (Geography)

Kerry Sondgeroth (Veterinary Sciences)

Jessica Sutter (Physics & Astronomy)

Rebecca Upjohn (Ecosystem Science and Management)

Richard Vercoe (Geography)

Ami Wageline (Biology at LCCC)

Chen Xu (Geography)
---

The first annual Science Initiative Summer Institute (SI2) was held June 7th through the 12th, 2016. it was considered a massive success by mentors, faculty and graduate students alike. The diversity and collaborative nature of the group led to unprecedented articulation, collaboration and innovation beyond that anticipated/predicted. Fellows described the experience as being "transformational", "jump starting [their] active learning knowledge" and inspiring them to help other instructors. Fellows presented their plans for launching innovative curriculum during the 2016-2017 academic year and with continued LAMP support, they look forward to spreading the ripples of their revolutionized teaching and learning environments.




2016-2017 Faculty and Graduate Student Fellows
David Anderson (Chemistry)

Morgan Balabanoff (Chemistry)

Brian Barber (Biodiversity Institute)

Jamie Crait (Life Sciences / WRSP Director)

Ellen Currano (Botany)

Melissa Gelwicks (Chemistry)

Jesse Hinshaw (Molecular Biology)

John Hoberg (Chemistry)

Abigail Hoffman (Botany)

Joshua Holmes (Molecular Biology)

Elliott Hulley (Chemistry)
Hayley Lanier (Zoology & Physiology)

Michele Larson (Zoology & Physiology)

Brian Leonard (Chemistry)

Hilary Madinger (Zoology & Physiology)

Jaya Maithil (Physics & Astronomy)

Michelle Mason (Physics & Astronomy)

Kali Nicholas Moon (Botany)

Chris North (Botany / Life Sciences)

Kristopher Parker (Molecular Biology)

Jonathan Prather (Zoology & Physiology)

Sean Stettner (Molecular Biology)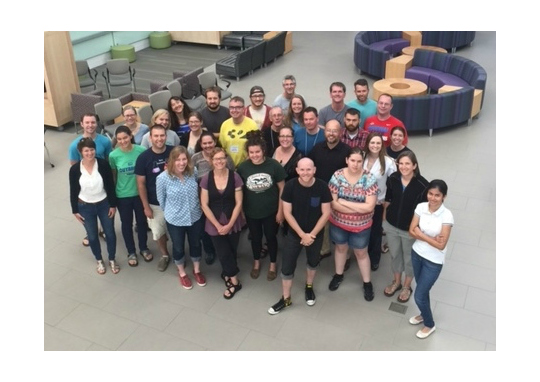 The 2016-17 Fellows included 22 faculty and graduate students across UW STEM fields.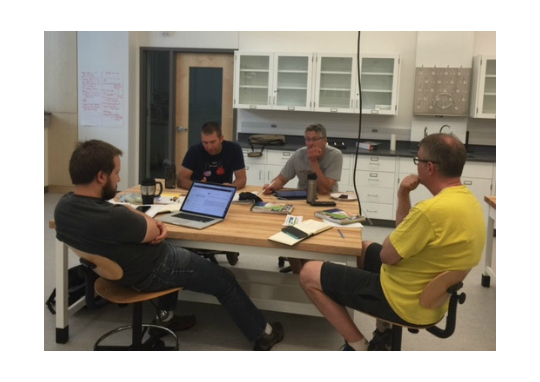 Elliott Hulley, Dave Anderson, Brian Leonard and John Hoberg of the Chemistry Department work together to develop instructional strategies during the 2016 Summer Institute on Active Learning in the Sciences
Testimonials: 
"Overall, the science initiative fellowship has reawakened my passion for teaching and made me more aware of how much I missed the creative experience of designing curriculum." 
"The idea of allowing students to develop their own opinions and ways to approach problems, with help in groups or individual, was eye-opening…The group activities negate the professor-student dichotomy, which drives students' critical thought, promotes metacognition, and can enhance the classroom experience." 
"I implemented many more active learning techniques during the lecture period and saw an increase in student response and attentiveness. It was great to have immediate (especially positive) responses to my new classroom techniques."