Energy Land & Water Management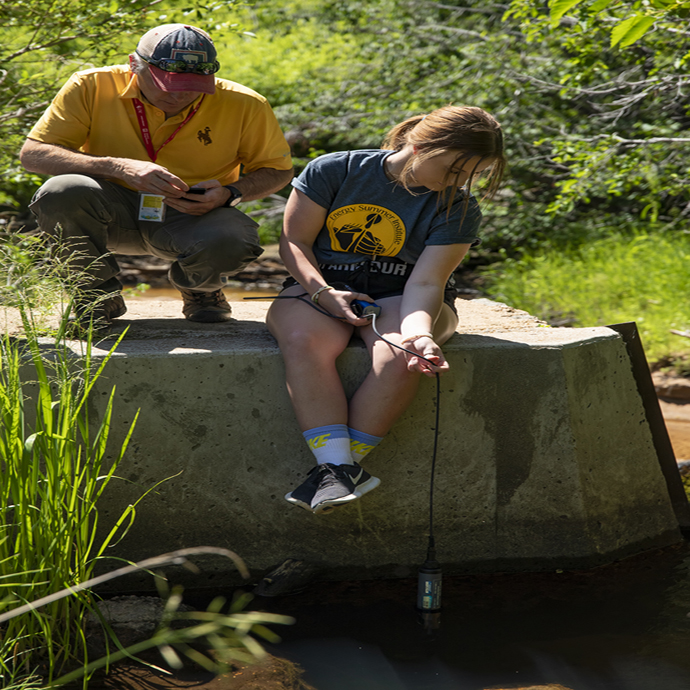 What is an Environmental Scientist? 
Energy production is dependent upon the sustained stewardship of air, land, and water resources. Environmental scientists, consultants, and reclamation planners use their knowledge of our natural resources to protect the environment during energy development. 
Most of the work that environmental scientists do involves collecting and sampling data from air, soil, water, and other materials. The data collected is used for environmental impact studies and surveys. These samples help to identify and assess threats to the environment, develop plans to prevent or fix problems such as pollution, and provide guidance for land reclamation projects and possible hazards and health risks. This ensures quality regulation and management of our natural resources.
Think Outside! Explore other opportunities for outdoor and environmental careers here.
---
Career and Graduate School Opportunities
Biological Field Technician
Environmental Compliance Coordinator
Environment Health and Safety Analyst
Environmental Services Technician
Laboratory Technician
Natural Resource Analyst
Project Manager
Regulatory Analyst
Water/Range Technician
Environmental Consultant
Graduate school in water quality, rangeland ecology and watershed management and environment and natural resources
Typical employers are oil and gas companies, coal companies, environmental consulting firms, conservation districts, state and federal governments.
---
RECENT GRADUATES JOBS
Absaroka Energy & Environmental Consulting LLC, Environmental Technician
Campbell County Conservation District, Water/Range Technician
Crestone, EHS&R Field Technician
DCP Midstream, Environmental Compliance Coordinator
Encana, Regulatory Analyst
Environmental Works Inc, Compliance Scientist
FDL Energy, Environmental Engineer
Kiewit, Environmental Engineer
Marathon Petroleum, Air Quality Specialist
USDA NRCS, Soil Conservation
Wood Group PSN, Project Engineer
Wyoming State Engineers Office, Natural Resource Analyst
---
Courses
Students take courses in communication, mathematics, statistics, business, economics and law, chemistry, biology, engineering, energy, geographic information systems, environmental science, and negotiation.
Click here to download the Energy Land and Water concentration degree plan.
---
Student Organizations
Energy Land and Water students are encouraged to join the Restoration Outreach and Research (ROaR!) student organization. ROaR! is a venue for students with an interest in reclamation and restoration of disturbed lands to help local organizations with projects and to network and gain career skills. Students are eligible to join the American Society of Mining and Reclamation.
Additional opportunities for belong include the Environment and Natural Resources Student Club and the Sustainability Club. 
---
Next Steps