Contact Us
Institutional Communications
Bureau of Mines Building, Room 137
Laramie
Laramie, WY 82071
Phone: (307) 766-2929
Email: cbaldwin@uwyo.edu
UW College of Business Appoints Center for Professional Selling Director
February 18, 2020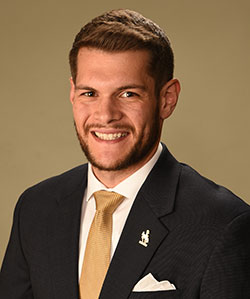 Chris Haller
Chris Haller is the new Timothy M. Miles Director of the Center for Professional Selling in the University of Wyoming College of Business.
He joins marketing Professor Mark Leach, the Mendicino Family Chair in Sales and Salesmanship and academic director, at the center. Haller begins his duties Wednesday, Feb. 19.
"I am thrilled to join the amazing team at the College of Business," Haller says. "Dean David Sprott and Professor Leach have done an outstanding job creating the vision and strategic plan of the Center for Professional Selling. I am looking forward to engaging with our students and corporate partners as we build one of the top sales programs in the country."
Haller will be responsible for overseeing daily operations; developing and maintaining a set of strategic corporate sponsorships; and facilitating a variety of student experiential learning and engagement opportunities, including coordinating interactions between students and corporate sponsors. He also will lead the marketing and customer relationship management activities of the center.
"We are excited to welcome Chris to the College of Business," Sprott says. "He comes to us with fresh ideas and new approaches, and we look forward to expanding our sales efforts with his input. This is an exciting time for us."
Haller worked as Wyoming Sports Properties business development manager, where he managed corporate sponsorships for UW Athletics. He also was the UW Athletics event management director, where he supervised day-to-day management of projects, including game-day logistics, facility scheduling and renovations, and internal and external rental agreements.
"Chris demonstrates great vision, leadership and energy, and we are very excited for the new opportunities his involvement will create for the center," Leach says. "I am honored to have Chris join our team; he brings with him innovative ideas and an elevated sense of professionalism."
Haller received a B.S. (2014) degree in sport management from the University of Kansas and an MBA (2017) degree from UW.
About the Center for Professional Selling
The center involves cross-campus collaboration producing a multidisciplinary program focused on developing long-lasting customer relationships. The center promotes professional selling and sales management; delivers innovative sales instruction; provides industry engagement opportunities; and conducts research that advances the sales field.
Using software and technology within the classroom, students experience how the effective use of customer and market information is critical when engaging today's customers. The program's curriculum and experiential learning opportunities earned it the distinction of a "Top University Sales Program 2017" by the Sales Education Foundation.
For more information about UW's Center for Professional Selling and opportunities to be involved with the center, visit www.uwyo.edu/mgtmkt/sales/.
Contact Us
Institutional Communications
Bureau of Mines Building, Room 137
Laramie
Laramie, WY 82071
Phone: (307) 766-2929
Email: cbaldwin@uwyo.edu