Contact Us
Institutional Communications
Bureau of Mines Building, Room 137
Laramie
Laramie, WY 82071
Phone: (307) 766-2929
Email: cbaldwin@uwyo.edu
UW Professor Receives Fulbright Award for ADHD Research in Norway
February 24, 2020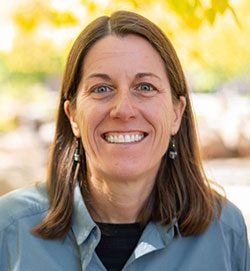 Cynthia Hartung
Cynthia Hartung, a professor in the University of Wyoming's Department of Psychology, has received a Fulbright Scholarship to conduct research next spring semester at the Norwegian University of Science and Technology.
Specifically, Hartung will examine the development of attention-deficit/hyperactivity disorder (ADHD) in the Trondheim Early Secure Study, which includes over 3,000 adolescents who have been followed since birth. She will work with Professor Lars Wichstrøm, who leads the study.
"I am honored to have been selected for a Fulbright and excited about the opportunity to work with Professor Wichstrøm on his birth cohort study in Norway," Hartung says. "This dataset will allow me to compare childhood- and adolescent-onset ADHD; examine sex and gender differences in ADHD; and explore the relations among ADHD symptoms and healthy lifestyle behaviors such as sleep, diet and exercise."
Hartung is one of over 800 U.S. citizens selected by the U.S. Department of State and the J. William Fulbright Foreign Scholarship Board to teach, conduct research and/or provide expertise abroad for the 2020-21 academic year through the Fulbright U.S. Scholar Program. Recipients of Fulbright awards are selected on the basis of academic and professional achievement, as well as record of service and demonstrated leadership in their respective fields.
The Fulbright Program is the U.S. government's flagship international educational exchange program and is designed to build lasting connections between the people of the United States and the people of other countries. Participating governments and host institutions, corporations and foundations around the world provide direct and indirect support to the program, which operates in over 160 countries worldwide.
Since its establishment in 1946 under legislation introduced by the late U.S. Sen. J. William Fulbright, of Arkansas, the Fulbright Program has given more than 390,000 students, scholars, teachers, artists and professionals of all backgrounds and fields the opportunity to study, teach and conduct research; exchange ideas; and contribute to finding solutions to shared international concerns.
Hartung has been a member of UW's faculty since 2007. She holds a Ph.D. and master's degree from the University of Kentucky.
Contact Us
Institutional Communications
Bureau of Mines Building, Room 137
Laramie
Laramie, WY 82071
Phone: (307) 766-2929
Email: cbaldwin@uwyo.edu