Contact Us
Institutional Communications
Bureau of Mines Building, Room 137
Laramie
Laramie, WY 82071
Phone: (307) 766-2929
Email: cbaldwin@uwyo.edu
Bill Charlap Trio to Perform March 12 at UW
March 6, 2020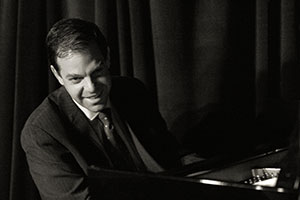 Bill Charlap
The Bill Charlap Trio will perform at the University of Wyoming Thursday, March 12, at 7:30 p.m. in the Buchanan Center for the Performing Arts concert hall. The jazz performance is part of the UW Presents spring series.
Tickets cost $15 for the public; $12 for senior citizens, and UW faculty and staff; and $10 for students. Tickets are available at the Performing Arts box office or Wyoming Union information desk, by calling (307) 766-6666 or by going online at www.uwyo.edu/finearts.
Charlap, a jazz pianist, has performed and recorded with many artists, ranging from jazz masters Phil Woods and Wynton Marsalis to singers Tony Bennett and Barbra Streisand. Since 1997, Charlap has led the Bill Charlap Trio, with bassist Peter Washington and drummer Kenny Washington.
Charlap is the artistic director of New York City's Jazz in July Festival at the 92nd Street Y and has produced concerts for Jazz at Lincoln Center, the JVC Jazz Festival and at the Hollywood Bowl. A two-time Grammy nominee, Charlap is married to jazz pianist Renee Rosnes, and the musicians often collaborate in a duo piano setting.
In 2010, Charlap and Rosnes released "Double Portrait," their acclaimed duo piano recording on the Blue Note label.
For more information about Charlap, visit www.billcharlap.com.
The spring 2020 UW Presents season features five performances. Visit the website at www.uwyo.edu/uwpresents/season-lineup for the spring season lineup. The next scheduled performance is guitarist JIJI Friday, March 27, at 7:30 p.m. in the Performing Arts concert hall.
Each year, UW Presents brings a variety of internationally known performers to the UW campus, often at ticket prices much less than at larger venues. UW Presents assists the university in its broad educational mission by presenting a balanced program of music, theater and dance, featuring performances by artists of national and international distinction.
All shows take place in either the Performing Arts Center or the UW College of Arts and Sciences auditorium.
For more information, call Philip Moline, director of UW Presents, at (307) 766-5139 or email pmoline@uwyo.edu.
Contact Us
Institutional Communications
Bureau of Mines Building, Room 137
Laramie
Laramie, WY 82071
Phone: (307) 766-2929
Email: cbaldwin@uwyo.edu